Letter to editor
GOOD morning, Malaysians!
AFTER several months of haggling, the palace has finally consented to the demand to set up a new government.
Prime Minister (PM)-in-waiting, Opposition leader Datuk Seri Hamzah Zainudin is expected to be the eleventh PM with Datuk Seri Mohamed Azmin Ali as the Deputy Prime Minister (DPM).
Tan Sri Muhyiddin Yassin is expected to be appointed as Senior Minister while 98-year-old Tun Dr Mahathir Mohamad will chair the national council of elders to advise the new government.
This final decision was made after several months between the palace and the various coalitions following Persekutuan Muafakat Kebangsaan's (PMK) landslide victory in early December last year (2023).
This is a fictitious news piece that we may wake up to. It is a standard news template with only a change of names. After all, this is Malaysia.
Back to reality
In what is already a messy country politically, the same losers are once again trying to seize power and to destabilise the unity government set up for a whole five years term.
It is time for us ordinary rakyat to discern the strategies used to influence us in a certain direction to help them achieve their own political agenda. Before the state elections, I trusted MUDA president Syed Saddiq Syed Abdul Rahman but after watching his latest video, I also lose hope in him.
This video is flawed if one starts asking critical questions why if Anwar was involved in directing the Attorney-General's Chambers (AGC) on Zahid's DNAA, did he do it at a time when there are two by-elections going on in Johor? Think, my fellow Malaysians why I saw through Syed Saddiq's real motive behind this video.
The first wave of comments coming from civil leaders will soon be followed by a second wave by heavyweights from the Opposition should Perikatan Nasional (PN) win the Pulai parliamentary and Simpang Jeram state by-elections in Johor this weekend (Sept 9).
The targets are ordinary citizens to turn them against the unity government set up by the Yang di-Pertuan Agong. Just as the political parties forming the unity government are beginning to work together, it suddenly looks like PM Datuk Seri Anwar Ibrahim has lost his "moral compass."
As I mentioned earlier, DPM Datuk Seri Ahmad Zahid Hamidi's discharge not amounting to acquittal (DNAA) should immediately prompt critical thinkers to ask, "Why NOW of all times when Pakatan Harapan (PH) is involved with the Johor by-election?"
At the same time, when the Kuala Lumpur High Court struck out four charges against former premier Tan Sri Muhyiddin Yassin for abusing his position to solicit bribes amounting to RM232.5 mil for Bersatu in which he is the president, why was there not a noise?
For a small and relatively new party like Bersatu, how did they pay for all its candidates and their extensive campaigns during the federal and state elections?
Many examples
History has many examples when kings had to build strategic alliances with their enemies to fend off the invading army lest they would be conquered.
During the 1975 Japanese Red Army (JRA) raid where 50 hostages were held at the AIA building, the Japanese and Malaysian governments had to release a few JRA members in custody in order to secure the release of these hostages. It is a trade-off.
When someone is useful as a prosecution witness, the prosecutors would "compromise" and agree to reduce or even drop charges against the witness for her cooperation so that the main criminal can be convicted.
In all three examples, nobody made an issue of it.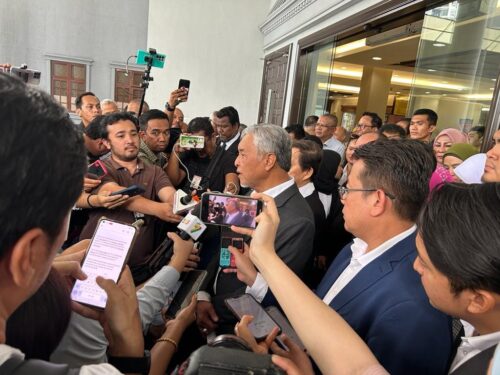 Fast forward to the Madani government. Everyone knows that Zahid is an important block in the Madani government. If he switches his allegiance to PN, his corruption charges would also be dropped (anyway).
At the current juncture, the people are literally saying that they rather let the unity government to crumble than to allow Zahid to go free. Once the Madani government crumbles, all the other criminals facing charges now will be laughing their way to the bank.
So, if really the decision had come from Anwar (which I doubt), it is still a good trade-off. Anwar is going after the bigger boys with billions stashed in foreign banks – and that's what we want to see.
Malaysians must not forget that the DNAA means that Zahid can be prosecuted again if a new government so decides. But the UMNO president and Barisan Nasional (BN) chairman could also defect and join the other camp just to secure his own freedom, couldn't he?
I would rather allow the Madani government to run its full term till 2027 to prove its worth. The last thing I would want happen is to watch the musical chair political madness that has become a sickness and forever seeking to change the government mid-term.
We as rakyat derive no benefit from all these scuffles. It is the politicians who get into the corridors of power. Enough is enough!
Haven't we seen enough of what happened between 2020 and 2023 after the Sheraton Move? I join the Johor ruler, Sultan Ibrahim Sultan Iskandar's call to give enough time for Anwar to lead the 135-member strong unity government to solve the myriads of unsolved woes faced by Malaysians. – Sept 6, 2023
Stephen Ng
Kuala Lumpur
The views expressed are solely of the author and do not necessarily reflect those of Focus Malaysia.