MALAYSIA'S digital economy is on a strong upward momentum and should contribute a robust 24.4% to the national gross domestic product (GDP) in 2023 before touching 25.5% next year, according to the National Tech Association of Malaysia (PIKOM).
"The robust escalation of the digital economy and resilient even amidst global economic upheavals has cemented its position as a crucial pillar of Malaysia's economic structure," observed PIKOM advisor and research chair Woon Tai Hai (main pic).
"Its strategic role in creating employment, facilitating remote work during and even post-pandemic while fostering technological advancements and local innovation has played an intrinsic role in propelling the nation forward."
Tech salaries, meanwhile, are expected to surge 13.9% this year, a double-digit growth not witnessed for many years, he further projected.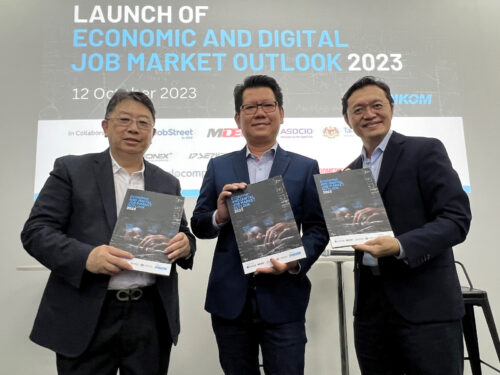 Woon (left) was speaking at the launch of the 15th edition of "PIKOM's Economic and Digital Job Market Outlook 2003" at a media conference today. Also present were PIKOM deputy chairman Alex Liew (centre) and PIKOM CEO Ong Kian Yew (right).
"This is in sharp contrast to the approximately 2.0% growth in the past two years. We also project a 4.13% tech salary growth for 2024 and an average annual growth rate (AAGR) of 6.45% over the next decade," he further shared.
Woon attributed this significant growth to a combination of factors including intensified competition for talent, the repatriation of skilled professionals following the pandemic, a weakening ringgit, accelerated digital transformation in the private sector as well as forward-thinking government policies.
PIKOM has sustained the publication of its annual outlook over the past 16 years (except during the first COVID-19 pandemic year of 2020) with increasing breadth and scope.
While maintaining its analytical core on the tech market and highlighting specialist positions such as those in cybersecurity, artificial intelligence (AI) and data science, the 2023 report also introduces a new section that sheds light on CEO salaries across 22 different industries. – Oct 12, 2023