DESPITE Malaysia's Big-Four glove makers having to grapple with normalisation of average selling prices (ASPs), rubber products remained dominant in 3Q 2021, allowing the industry to continue to thrive and contribute to the country's economy.
Until October 2021, the overall exports of rubber and rubber products increased by 70.7% to RM63.2 bil from RM37 bil within the same period in 2020, according to the Malaysian Rubber Council (MRC).
"Large deployment of vaccination ramps up demand for medical gloves," revealed MRC. "Latex goods sector continues to show strong performance amounting to RM51.4 bil, an increase 86.3% over the same period last year at RM27.6 bil."
The sector maintained its pace as the leader of the rubber products exports from January to October 2021 at 92.7%. Rubber gloves remain the highest earner with export revenue of almost RM50 bil, an increase of almost 91% from the previous year.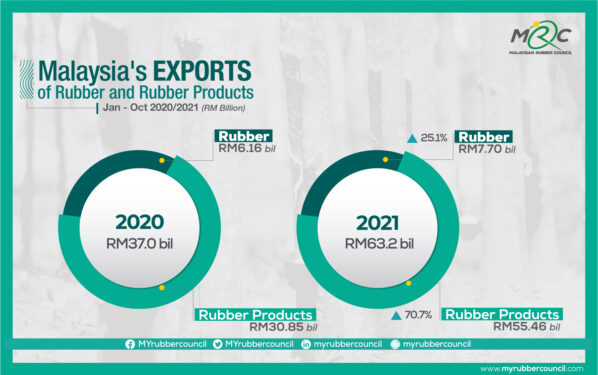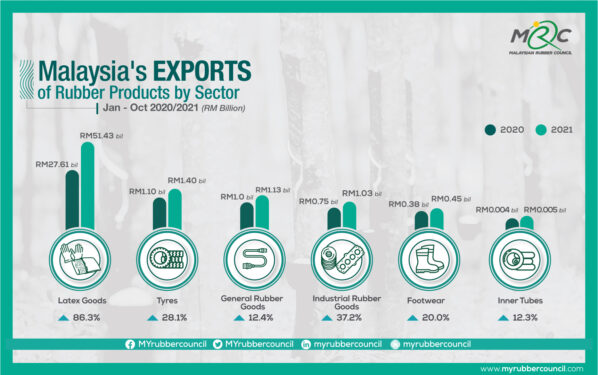 Medical gloves made up 40.1% of the latex goods sector amounting to RM22.2 bil. As countries are ramping up their vaccination programme, large-scale vaccine deployment is increasing the need for medical gloves such as examination gloves.
The US remains the largest market for Malaysian rubber products with a total export of RM20.8 bil, an increase of 118.9% until October 2021 compared to the same period in 2020.
Other key markets have also recorded an encouraging increase in export, namely Canada by 126.3%, Germany (99%), Netherlands (93.7%), Japan (72%) and Brazil (67.3%).
Elsewhere, the tyre industry was enhanced with the aim to diversify Malaysia's export contribution of high-value products and increase the export performance of dry rubber products while simultaneously increasing the consumption of locally produced rubber.
January-October 2021 saw an encouraging increase of tyres exports by 28.1% to RM1.4 bil from RM1.1 bil in the same period last year. The US remains as the country's leading importer of tyres, an increase of 45.5% or RM600 mil compared to the same period last year.
Industrial rubber goods which comprise products for the automotive, mining and construction sectors and footwear also showed an encouraging increase of 37.2% and 20% respectively within the same period compared to last year.
Keeping growth in focus and to better prepare for the new post-pandemic economy, MRC will assist companies to leverage opportunities offered by the International Development Organisations (IDOs) in terms of sales pipeline development, tender support and capacity building programmes, according to its CEO Nor Hizwan Ahmad.
"MRC has organised various webinars to assist companies and to expose them to the IDOs, the benefits of engaging with IDOs to explore business prospects, and the variations in financing flow for rubber medical devices and dry rubber products," he added. – Dec 23, 2021