BERSATU president Tan Sri Muhyiddin Yassin has claimed that the party is a victim of "selective prosecution" after two of his party members were hauled to court today on allegations of soliciting and receiving bribes in exchange for lucrative government contracts.
Speaking at a press conference at the Kuala Lumpur court complex after its information chief Wan Saiful Wan Jan was charged earlier today with corruption, the former prime minister said the unity government led by Pakatan Harapan (PH) and Barisan National (BN) is engaging in a "witch hunt" to further cripple his party ahead of the six state elections that are slated to be held this year.
"We actually expected that this would be done by the PH-BN government to weaken Bersatu after seeing growing support for Perikatan Nasional," said the Perikatan Nasional (PN) chairman.
The Pagoh MP further asserted that his claims of selective prosecution are justified after UMNO president Datuk Seri Ahmad Zahid Hamidi had hinted at a new "court cluster" that would comprise PN leaders.
"UMNO president [Zahid Hamidi] even foreshadowed this event when he claimed that a new court cluster would emerge from PN. It is as if these events were already planned," he was reported as saying by The Vibes.
Muhyiddin went on to point out that PH and BN had also received funds from their supporters and questioned why their leaders were not hauled to court.
He also said Bersatu's constitution allowed for funds to be collected from the public, including individuals who support its cause.
"This includes funds given by businessmen who support the party," he added.
He claimed that the matter was being played up by the unity government as it is "seen to be failing at solving the people's issues and will be rejected in the coming state polls", adding that the PH-BN government will face "judgment" during the state elections for their "malicious intentions" and "witch-hunting".
Expressing hopes that Wan Saiful would be given a fair trial, Muhyiddin advised Bersatu members to refrain from taking any action that would cause public disorder.
"Party leaders have already taken the appropriate action through legal channels," he said.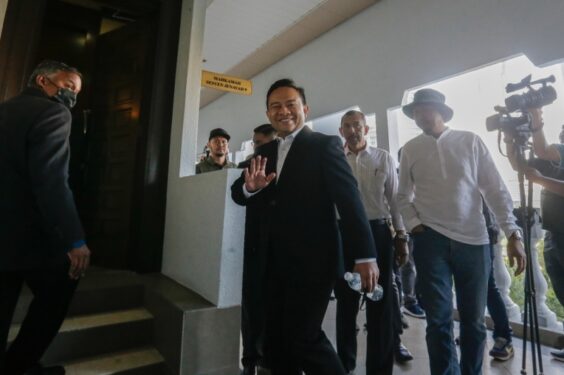 Earlier today, Wan Saiful Wan Saiful was slapped with two charges – first for soliciting a bribe of an unspecified amount and second for receiving a bribe of RM6.96 mil between July 8, 2022, and Sept 30, 2022.
The Tasek Gelugor MP was accused of soliciting a bribe from one Lian Tan Chuan as an inducement to help Nepturis Sdn Bhd secure a project called "Central Spine Road: Sertik Ke Persimpangan Lebuhraya Pantai Timur" from the federal government through pre-qualification.
The project was supposed to be valued at RM232 mil.
The second charge accused the Bersatu leader of receiving, through his company WSA Advisory Group Sdn Bhd, the RM6.96 mil from Nepturis as an inducement to help the latter secure a letter of award for the same project.
Both charges were alleged to be in violation of Section 16(a)(A) of the MACC Act 2009.
Wan Saiful faces imprisonment of up to 20 years and a fine not less than five times the value of the inducement. – Feb 21, 2023
Main pic credit: The Star