THERE has been much online furore (and mirth) over the recent announcement by national carrier Malaysian Airlines (MAS) that it was allowing passengers to bring their own food after the airline has discontinued its partnership with its long-term caterer Brahim's Food Services Sdn Bhd (BFS).
Announced on its website in its Frequently Asked Questions (FAQ) segment, MAS merely stated that the food must be halal and of the non-reheated types as well as having to comply with standard liquid, aerosols and gels (LAGs) restrictions.
But passengers and netizens have decried this move as unprofessional and clearly lacking the requisite thought and planning.
Many have poked fun at the bring-your-own-food move with one X (formerly Twitter) user suggesting that passengers organise on-board potluck parties with each bringing a specialist dish to make up an on-board feast. Another said he will be bringing a full plate of nasi kandar for his scheduled flight to quell his hunger pangs!
Whilst MAS has clarified that its FAQ has been taken out of context, the whole fiasco opens up a whole can of worms. If indeed this shift away from BFS had been a move many months in the making, why alternative arrangements were so poorly managed that MAS felt it needed passengers to pack their own meals?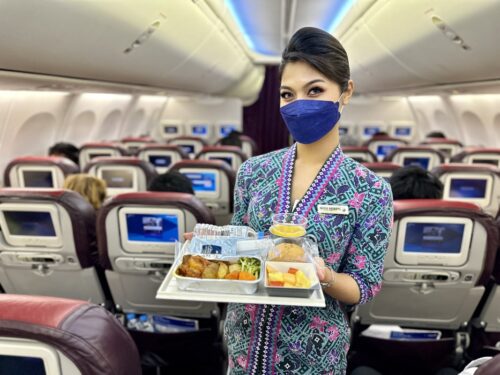 The other issue is that the restrictions placed on the packed food seems a tad simplistic. After all, Malaysians are famed for their love of messy, greasy and pungent-smelling foods – many of which are ill-suited to the confines of an airplane where odours can linger.
FocusM is pretty sure that items such as sambal belacan and cencaluk or dodol durian would not be welcome on board any MAS flight, no matter how expertly prepared they are!
As reported in the New Straits Times (NST), the parent company of Malaysia Airlines, Malaysia Aviation Group (MAG), had only announced on Aug 30 that it would activate its Business Continuity Plan (BCP) for inflight meal services on selected routes under Malaysia Airlines starting from Sept 1. This follows the end of its contract extension with BFS on Aug 31.
The aviation group confirmed that the activation of the BCP marks the discontinuation of the legacy partnership on catering services previously provided by BFS on selected domestic and international routes within the airline's network.
During this transition, alternative inflight food and beverages will be served on the impacted routes to ensure smooth operations while minimising any potential impact on customer comfort and experience. The remaining routes will continue to be served by the current provider, POS Aviation Sdn Bhd. – Sept 5, 2023