FOLLOWING the recent announcement by the Government that face masks are no longer mandatory onboard commercial aircrafts, Malaysia Airlines (MAS), Firefly, MASwing, AMAL and AirAsia have exempted the use of face masks on their flights effective immediately. 
The use of face masks is optional to its passengers unless they are travelling to or from destinations that require masks onboard flights.  
Guests who wish to wear a face mask onboard, however, may continue to do so. 
In a statement yesterday (Sept 28), Malaysian Aviation Group (MAG), which operates Malaysia Airlines, Firefly, MASwing and Amal, said it briefed Health Minister Khairy Jamaluddin on the matter after conducting a risk assessment. 
Khairy announced the relaxed masking rules on flights after the briefing.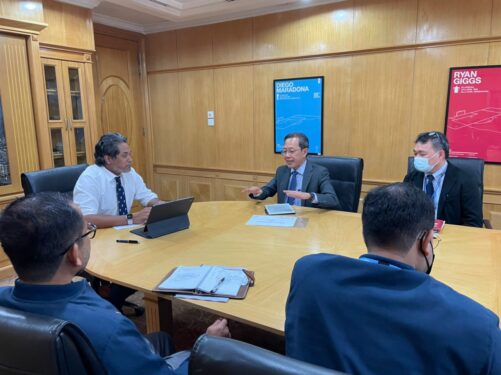 MAG CEO Captain Izham Ismail cited protective features available in MAGs aircrafts to support an end to the mask mandate on aircrafts, including its cabin air circulation system where cabin air is refreshed 20 to 30 times an hour and the use of High-Efficiency Particulate Air (HEPA) filters, which have the capability to filter 99.9% of airborne contaminants, including viruses and bacteria.  
"(We), however, strongly encourage passengers who are unwell, high-risk individuals and those travelling with high-risk individuals to continue wearing masks onboard," he said, echoing Khairy who made the same recommendation yesterday (Sept 28). 
Izham added that passengers travelling with Malaysia Airlines, Firefly, MASwings and AMAL can fly confidently as MAG is committed to providing a safe and seamless end-to-end travel experience in line with its MHFlySafe initiative.  
This includes aircraft operations by fully vaccinated pilots and cabin crew as well as frequent aircraft disinfection following guidelines prescribed by the Health Ministry and World Health Organisation (WHO).  
"Strictest safety standards"  
Meanwhile, in a separate statement today, AirAsia said it will continue to operate with the strictest safety standards, adding that all its aircrafts have HEPA filters too. 
"The cabin air is completely refreshed every three minutes to ensure the highest possible quality of air throughout your flight," the budget airline pointed out.  
It added: "We will continue to update the guidelines on the use of face masks onboard for all other markets that we operate in as we return to the skies." 
In announcing the masking relaxation yesterday, Khairy said MOH still encourages those who exhibit COVID-19 symptoms such as fever, cough and flu; with low immunity levels and chronic illnesses; and travel companions of high-risk groups like the elderly and children to continue masking up.  
He added that the loosened masking rules were in line with health recommendations by the European Union (EU), the UK, US, Australia, New Zealand and Singapore, on the back of criticism that the move would put those with compromised immunity systems and who cannot get vaccinated due to health reasons at risk.  
The compulsory use of face masks in Malaysia started on Aug 1, 2020, and was aimed at minimising or controlling the community-level spread of COVID-19 during the early phases of the pandemic.  
The wearing of masks has been shown to protect people from contracting COVID-19, according to research and official Government data, though the quality of masks worn does play a major role in its protection rate.   
As of Sept 7, masking in most indoor areas in Malaysia is no longer compulsory, although premise owners have the last say on whether to allow unmasked folks in or not. – Sept 29, 2022 
Main photo credit: NPR