THE Malaysian Direct Distribution Association (MDDA) marked its 30th anniversary recently with a Gala Dinner held at EQ Hotel, Kuala Lumpur.
The event was opened by a speech by Domestic Trade and Cost of Living Ministry (KPDN) secretary-general Datuk Azman Mohd Yusof and was attended by leading industry players and delegates from Direct Distribution Associations regionally.
In his opening speech, Azman congratulated MDDA on their milestone and lauded the association for its various achievements throughout the years.
"MDDA holds a crucial position in Malaysia's Direct Selling Industry, playing a vital role in its growth and development," he said.
He added that through extensive training programmes and knowledge-sharing platforms, MDDA has empowered individuals and businesses, fostered innovation and improved the skills of many direct selling industry players.
MDDA's commitment to professionalism, adherence to high standards, and efforts in promoting ethical practices and transparency has elevated the industry's reputation.
Even amid the challenges of the COVID-19 pandemic, the direct selling industry in Malaysia has shown resilience, he said.
According to MDDA president Datuk Seri Dr Barani Karunakaran, the association has embarked on a determined course to become the top direct selling association in the country, setting its sights on solidifying Malaysia's position on the global stage of the direct selling industry.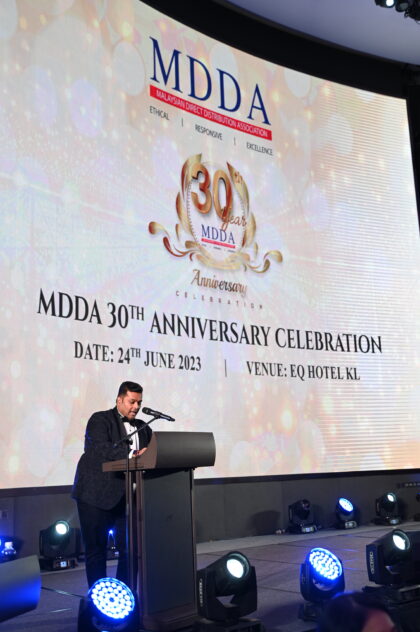 He said that MDDA's ambitious plan aligns with the surge of revenue from the direct selling industry in Malaysia valued at RM25 bil in the year 2020 to RM27 bil in the year 2021, signalling a strategic shift toward this growing business model globally.
The initiative is expected to generate substantial economic benefits, increase the country's Gross Domestic Product (GDP), promote entrepreneurial growth, and create significant regional job opportunities.
Since its establishment in 1993, MDDA has grown to include 105 member companies, fostering a close relationship with KPDN in addressing industry challenges.
The association has been actively amending the Direct Sales and Anti-Pyramid Scheme Act 1993 and resolving unauthorised selling and price markdowns on third-party platforms.
MDDA is also continuously working together with KPDN enforcement team on eradicating issues in the Direct Selling Industry like get rich quick scheme, money game and pyramid scheme by educating the public through its series of MDDA Straight Talk in Malay, English and Mandarin. Panels including industry leaders, KPDN officials and Royal Malaysia Police (PDRM).
The event also saw the signing of the Regional Association Memorandum of Understanding (MOU) between MDDA, AP2LI Indonesia, and FDSA India.
The MOU signifies a collaborative effort to strengthen the direct selling industry across the region.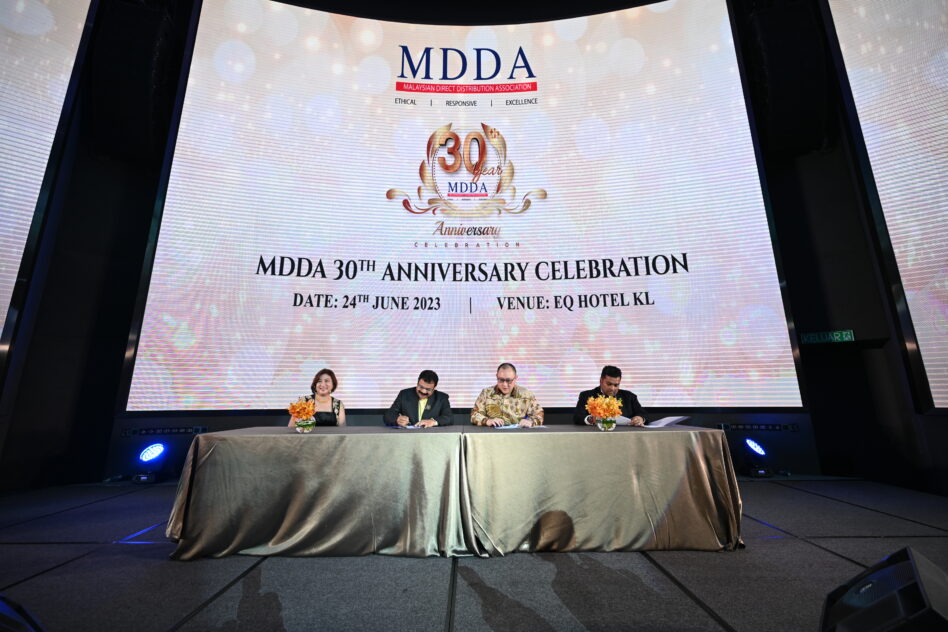 Barani (MDDA), Andrew Susanto (AP2LI), and A. P. Reddy (FDSA) represented their respective organisations during the signing ceremony. The memorandum of understanding will assist all MDDA members in expanding their markets globally and promoting Malaysian products in the global market.
In addition, MDDA presented the MDDA Intrapreneur Programme, endorsed by the Direct Selling Unit of KPDN.
The programme aims to enhance professionalism in the direct selling sector and is claimable under the Human Resources Development Fund (HRDF). Certificates were handed over to 20 recipients, acknowledging their participation in the programme.
The Gala Dinner included the presentation of various awards, honouring companies that have demonstrated excellence, innovation, and social responsibility.
Among the winners were Meganet4U Sdn Bhd, ShoppyMore Global Sdn Bhd, GMJ Konsortium Sdn Bhd, VKids Trend Sdn Bhd, Destina 1 International Sdn Bhd, M-Plan Sdn Bhd, Melilea (M) Sdn Bhd, Asia MLM Solutions Sdn Bhd, Bio-Science Marketing Sdn Bhd, Jeunesse Global Sdn Bhd, Netturul Resources Sdn Bhd, Era Edar Marketing Sdn Bhd and RCC Worldwide (M) Sdn Bhd.
Malaysian Direct Distribution Association would like to extend its deepest gratitude to its Platinum Sponsors, VKids Trend and Melilea Malaysia Sdn Bhd. Their generous support played a pivotal role in ensuring the success of the 30th Anniversary Gala Dinner.
The MDDA 30th Anniversary Gala Dinner provided an ideal platform to honour achievements, strengthen industry alliances, and set the stage for a promising future in the direct selling sector.
As MDDA continues to champion professionalism and excellence, the industry can anticipate even greater advancements in the years ahead. – July 14, 2023