LIKE doctors who are bound by professional ethics to treat their (human) patients without regard for skin colour and creed, a similar moral ground holds for veterinarians who are supposed to relieve the pain/suffering of their 'patients' across all animal species.
Hijab-clad Dr Salehatul Khuzaimah Mohamad Ali a.k.a #drima_vet on TikTok holds firms to her call for duty that she is unfazed with negative netizen feedback to video clips of her treating her canine patients barehanded (whether on TikTok, Facebook, Instagram and Twitter).
Currently running two veterinary practices – Serv-U Veterinary Clinic & Surgery in Kota Kemuning, Shah Alam and Trio Veterinary Clinic & Surgery in Bandar Sri Damansara – the 37 year-old mother of three (two girls and a boy) went on to defend her action as merely wanting to educate Muslims "who possess high intolerance towards anything to do with dogs and pigs".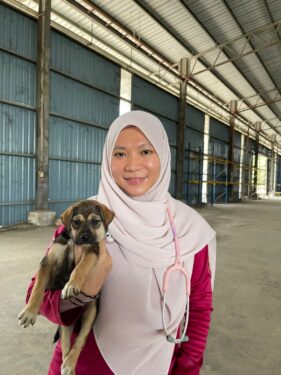 "Both dog and pigs are also creatures created by God … but the stigma and the mentality of our society especially the Malay Muslims against dogs and pigs is so negative that this often leads to the mistreatment of both animals," she told FocusM.
"Once the society possesses a mentality that regards both animals as haram (prohibited or forbidden), there is always a tendency to harm them by throwing stones at them or hit them with sticks."
As a professional veterinarian, Khuzaimah felt obliged to raise this issue despite its sensitivity given that it borders both humanity and religion as part of her quest to prevent "my kids' generation to possess a similar mentality as what has been taught to us back then".
"This is not that I'm encouraging Muslims to keep dogs as pets but my key points are for them to at least care for these animals, to love them and not to harm them," she pointed out.
In fact, Khuzaimah who graduated from the Universiti Putra Malaysia's Faculty of Veterinary Medicine in 2009 is spot on with her noble intention to create awareness and compassion towards dogs.
This is given that the 54th Perlis State Fatwa Committee Meeting on Sept 27 last year has ruled that "becoming a veterinarian to treat dogs is not an offence but an act of kindness with a valid hadith mentioning that a prostitute was pardoned by Allah SWT for providing drinking water to a dog".
Elaborating on the hygiene factor, Khuzaimah shared that the Mazhab Syafi' (Syafi' Sect) which is followed by majority of Malaysian Muslims is rather strict when it comes to handling animals such as dogs and pigs.
"I need to clarify that Islam doesn't prohibit Muslims to touch dogs but doing so will subject a person to the cleansing process (or sertu) by using soil and washing the hands six times with clean water which is often perceived to be a hassle but is actually easy to follow (with a bit of practice)," she added.
With the dog-friendly Khuzaimah around, pet owners in the Muslim-majority neighbourhood of Shah Alam or those in the more ethnically mixed vicinity of Sungai Buloh need no longer endure long drive in search of a veterinarian for their canine buddies. – Aug 7, 2022