IT'S not just his unheard-of name – anyone who chances upon Oluwashola Yaya Olukosi in Universiti Malaya (UM) might just do a double take. 
After all, who would be brave enough to wear a white shirt when selling Nasi Lemak?
Clearly, Oluwashola knows what he's doing; he's been running the Nasi Lemak Tanglin stall at UM's Kompleks Perdanasiswa for over eight years now.
Oluwashola, or "Brother Yaya" as he is more commonly referred to, hails from Lagos in Nigeria and has been in Malaysia for 12 years now. 
The 38-year-old also speaks fluent Malay. 
The popular seller starts his day at 4am, travelling to the main branch of Nasi Lemak Tanglin in Jalan Cenderasari in Kuala Lumpur to collect the Nasi Lemak ingredients and side dishes. 
He always makes it back in time to open shop at 7am.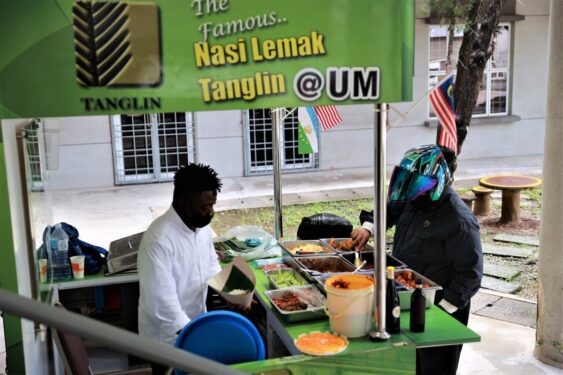 Clad in his trademark white, long-sleeved shirt and black pants, Yaya's stall is open seven days a week from 7am to 12pm (except on public holidays or if he gets up late!).
In an interview with UM Research Plus, Yaya shared that he holds numerous football coaching certificates and diplomas, including a Union of European Football Associations (UEFA) B licence.
According to the UEFA, the highest European football body, such license holders can become head coaches for amateur under-16 football clubs and youth teams as well as assistant coaches for professional clubs.
"I was a coach for the under-12 and 13-year-old teams at Wolverhampton Wanderers when I was in the UK," Yaya, who studied football coaching in the UK, added.
"Decided to find work elsewhere"
However, after returning to Nigeria and finding scarce job opportunities for someone with his experiences, Yaya decided to earn a living elsewhere. 
Remembering his tutor's advice while in the UK to explore coaching opportunities in Southeast Asia, he went on the internet to find suitable countries to work in. 
"When I was gathering information about Malaysia, I immediately fell in love with two pictures: the Batu Caves Temple and Petronas Twin Towers. Without wasting time, I decided to migrate here."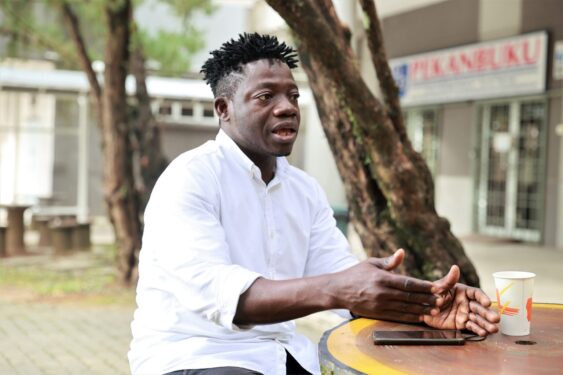 Yaya has been living in Batu Caves since moving to Malaysia in 2010.
But while his "first love" was these two iconic locations, he probably changed his mind when he sampled Malaysia's trademark delicacies.
"As a Muslim, I feel like I'm in food heaven!" said Yaya. "Even though it's not Malay food, I can still enjoy different types of food, Chinese, Indian and from all over the world, because there will be a halal version here."
That is how he came to be part of the Nasi Lemak Tanglin team – so he could work at his favourite food production location (Malaysia) and, at the same time, approach the Malaysian community that is multi-racial and religious but united by the food they love. 
"Maybe this is a concept that I can bring back to my country one day when the situation recovers," he said while staring at the Yorubaland flag (the homeland and cultural region of the Yoruba people in West Africa) on his kiosk. 
Realising that the change in his facial expression was noticed by the UM Research Plus team, Yaya said: "We will continue the story of Yorubaland at another time, yes? This case is being dealt with at the International Court of Justice (ICJ), and it's not right for me to comment on it here."
"Maybe you want to test my knowledge about Nasi Lemak?" he asked in an attempt to change the topic.
But when asked about the secret of Nasi Lemak Tanglin's sambal, Yaya simply said, "Sorry, brother. I have to ask my boss about that," with a grin on his face, apparently ending the interview. – Sept 25, 2022
Main photo credit: UM Research Plus