GIVEN that time is of the essence in busting financial scams – and to prevent further losses – it is essential for victims the very moment they discover that they have been scammed to swiftly lodge a report to their bank's hotlines which are operating 24-by-7 or to reach out to the "997" hotline of the National Scam Response Centre (NSRC).
A command centre to coordinate rapid response for online financial scams, the NSRC will initiate an immediate response although victims must also make a police report to furnish more detailed information to allow the authorities to investigate the matter.
In essence, NSRC brings together resources and expertise from the National Anti-Financial Crime Centre (NFCC), the Royal Malaysian Police (PDRM), Bank Negara Malaysia (BNM), the Malaysian Communications and Multimedia Commission (MCMC), financial institutions and the telecommunication industry to combat financial scams more quickly and effectively.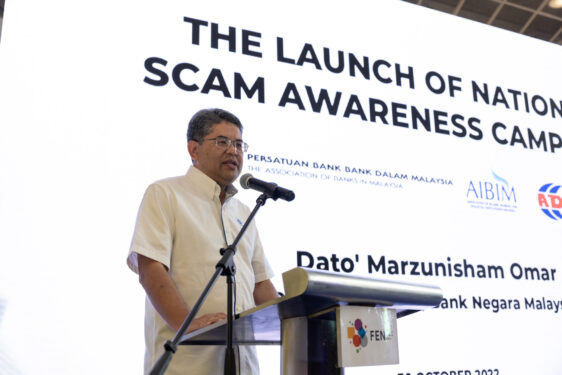 Yesterday (Oct 30), BNM's deputy governor Datuk Marzunisham Omar shared the very worrisome reality that one third or 37% of respondents of the central bank's Financial Capability and Inclusion Demand survey stated that they would be willing to share their bank account passwords or PIN numbers with their close friends.
"This statistic is indeed very troubling. We must take responsibility of our banking security credentials just like how we should take good care of our prized possessions," he cautioned at the launch of the national scam awareness campaign.
"We also need to ensure that our computers and mobile devices are secure and running up-to-date software. Remember not to download files or applications such as Android Package Kit from unverified sources or links."
He added: "We have observed that criminals often get victims to click such links or download such malicious apps by putting fake advertisements for products or services such as food delivery or maid services. Recently, we have also seen fake ads for pet grooming services."
On its part, Marzunisham said the authorities and financial industry will continue to create awareness and educate the public about financial scams, including on the latest modus operandi or tactics used by the scammers.
"The public is advised to frequently check the Amaran Scam Facebook page by BNM as well as Cyber Crime Alert and Semak Mule by PDRM for the latest updates," he added.
As part of the unveiling of the national scam campaign, the Malaysian banking industry has created a logo1to help members of the public remember three simple steps – also known as the three-second rule – which is "STOP, THINK, BLOCK (or "AWAS. FIKIR. BLOK" in Bahasa Malaysia) whenever they receive any calls, messages or e-mails from unknown parties.
"Together with the tagline "Ingat 3 Saat OK" and the hashtag #JanganKenaScam, the banking industry urges everyone to remember the three-second rule to keep safe and not fall victim to scams," said the industry which is represented by the Association of Banks in Malaysia (ABM), Association of Islamic Banking and Financial Institutions Malaysia (AIBIM) and the Association of Development Finance Institutions Malaysia (ADFIM).
"This National Scam Awareness Campaign which will be rolled out in November is a continuation of the banking industry's efforts to combat scams as well as to educate consumers regarding scams while sharing easy tips to stay safe online," it added. – Oct 31, 2022