SPECIALTY pole maker Mestron Holdings Bhd has posted a remarkable 2Q FY2023 net profit of RM4.02 mil or almost twice the RM2.02 mil recorded in the corresponding period a year ago.
The impressive results were driven by a 56.7% surge in revenue to RM37.8 mil in the period under review which was mainly attributed to higher sales of specialty poles and accessories, particularly for the telecommunication sector.
This was supported by the strong demand due to the ongoing development in Malaysia's telecommunication industry. The softening of raw material costs such as steel plates and steel pipes has further contributed to Mestron's improved margins during the quarter under review.
"These robust figures are the outcome of our strategic focus on the expanding telecommunications infrastructure market in Malaysia," commented Mestron's managing director Por Teong Eng.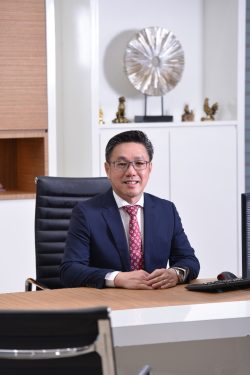 "The rising demand for our specialty poles, telco poles and accessories coupled with the decline in raw material prices has enabled us to deliver strong performance."
Aside from that, Por is also positive that the upcoming JENDELA Phase 2 initiative will continue to be the growth driver for the group in the near term.
The strong earnings momentum in its 2Q FY2023 has boosted Mestron's  net profit for the 1H FY2023 ending Dec 31, 2023 to soar to RM6.58 mil or almost double the RM3.38 mil reported in the same period last year. Meanwhile, the group's revenue grew by 42.1% to RM64.7 mil from RM45.54 mil in 1H FY2022.
Looking ahead, Mestron which is en route to a transfer listing to the Main Market of Bursa Malaysia by 4Q 2023 expects to attract more institutional investors.
The exercise is poised to support the group's long-term growth strategy which will be underpinned by two growth engines – telco infrastructure and its diversification into the renewable energy segment which is gaining momentum.
"Transferring to the Main Market is an essential step in our ongoing growth journey. We are confident that Mestron is well-positioned to deliver sustainable long-term growth and to create value for our shareholders as the roll-out of 5G networks and expansion of telco infrastructure continues in Malaysia," added Por.
At the close of today's market trading, Mestron was up 0.5 sen or 1.12% to 45 sen with 15.73 million shares traded, thus valuing the company at RM446 mil. – Aug 16, 2023