THE Malaysia Travel Healthcare Council (MHTC) has inked a partnership with PubliCT.io (formerly known as Supernewsroom) in a bid to reinvigorate healthcare travel in the region and globally.
The partnership, marked by the signing of a memorandum of understanding (MoU), would benefit some 80 MHTC member hospitals, enabling them to obtain end-to-end publicity services at a discounted price by the award-winning media tech start-up, PubliCT.io.
Under the collaboration, member hospitals are assured of media coverage to some 3,000 international partners.
"Malaysia is famed for its quality medical treatment that are accessible and affordable, being one of the top preferred destinations for healthcare travel.
"With healthcare travellers resuming their medical treatments in Malaysia since the borders reopened, this partnership with PubliCT.io will help further spur Malaysia's reputation as a safe and trusted destination.
"This is on top of supporting Malaysia's efforts in providing the best of healthcare travel experience," said MHTC CEO Mohd Daud Mohd Arif.
Elaborating, Daud said the partnership was timely as it would facilitate the growth of their member hospitals' medical offerings; which includes state-of-the-art technology and internationally qualified and trained medical personnel to the healthcare traveller via well-known international media platforms.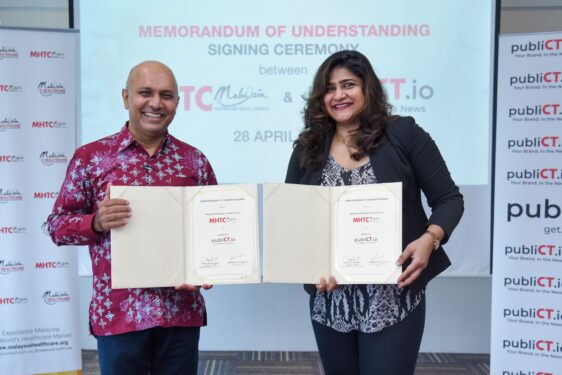 "And we look forward to welcoming healthcare travellers to experience the best of Malaysia's healthcare," he added.
In general, the healthcare industry has been witnessing great success in the last one decade. In 2019 alone, the industry achieved close to RM1.7 bil in revenue from hospital receipts, welcoming 1.22 million healthcare travellers for a wide range of treatments including cardiology, fertility and oncology.
On related matter, PubliCT.io said it was committed and ready to help MHTC healthcare members in achieving broader reach through its services that include virtual public relations consultants, press release writing and translation services.
"Publicity is crucial for any organisation as it provides credibility, visibility and validation. Being a home-grown Malaysian start-up, we are excited to support the country's healthcare travel industry players by providing publicity in top news agencies not only in Southeast Asian countries but across the globe," its CEO Manminder Kaur Dhillon stated.
Citing partnership with 3,000 media partners including the likes of Associated Press (AP), which has wide coverage in the US, Middle East and Asia, Manminder said she was confident that Malaysia's quality healthcare services and offerings will get recognised in more countries.
"PubliCT.io's users are guaranteed coverage in top publications through our news-partner network, using our unique content marketplace platform.
"Our unique value proposition offers news agencies the authority to choose editorial content that will be published and empower brands to obtain media coverage in selected news sites," she explained.
Win-win for all
The partnership with MHTC also marked the start of a rebranding campaign from Supernewsroom to PubliCT.io. In the coming months, the public relations tech startup is looking to join hands with more news sites and start-up-enablers.
In turn, it would encourage more Government-linked corporations and Government agencies to partner with the platform.
"When industry enablers such as MHTC collaborates with local start-ups, it solidifies the notion that Malaysia has highly innovative start-ups with game changing products and services that can ultimately contribute to the growth of any industry.
"Collaborations such as this should be emulated by other corporations and we thank MHTC for leading the way.
"There is a definite win-win in these collaborations. Targets can be achieved and there is support for the local start-up ecosystem. PubliCT.io is also looking forward to working with other industry enablers as we help get things moving again for the country and for the region," Manminder quipped. – June 1, 2022.