THERE were more political appointments during Datuk Seri Ismail Sabri Yaakob's administration from when his predecessor Tan Sri Muhyiddin Yassin held the country's top office, a think tank revealed today.
The Institute for Democracy and Economic Affairs (IDEAS) said data it monitored between August 2021 to September 2022 revealed a "worrying increase" in the number of political appointments for federal statutory bodies (FSB) made by Ismail's Government.
IDEAS' data showed that Datuk Seri Najib Razak's administration from April 2009 to May 2018 saw 233 political appointments, while the number dropped to 72 when Dr Mahathir Mohamad took over as prime minister until February 2020.
However, this shot up to 139 when Muhyiddin was prime minister from March 2020 to August 2021 and increased once more to 234 when Ismail succeeded him and up to the end of his administration this month.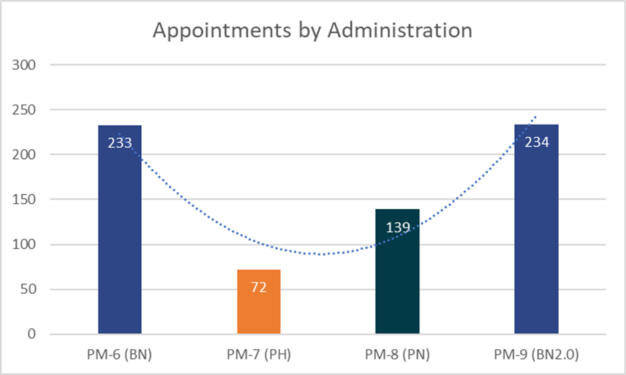 Of the 234 political appointments during Ismail's time in office, 115 appointees were retained from Muhyiddin's administration while as many as 119 new appointments were identified.
As expected, UMNO dominated the list of politicians retained in FSBs with 52 appointments, followed by Parti Pribumi Bersatu Malaysia [PPBM] (28) and PAS (11).
Similarly, more than half of the new political appointments hail from UMNO (61), followed by PPBM (19), the newly-established Parti Bangsa Malaysia [PBM] (15), PAS (7) and MCA (5).
For the record, Ismail, whose role as caretaker prime minister kicked in last Monday (Oct 10) after his request to dissolve Parliament got the Yang di-Pertuan Agong's consent, is also an UMNO vice-president.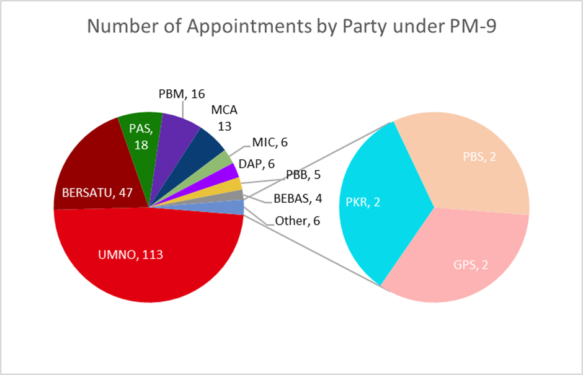 IDEAS added that out of 133 FSBs, 72 (54%) of them were directly affected by the appointments and involved 22 out of 27 ministries (81%).
"Higher Education Ministry had most political appointments"
On the other hand, the ministries with the most political appointments were identified as the Higher Education Ministry (10 FSBs), Transport, Rural Development and Agriculture and Food Industries Ministries (with eight FSBs each) and the Plantation Industries and Commodities Ministry (seven FSBs).
Meanwhile, Institut Koperasi Malaysia (IKMa) saw the largest volume of political appointments on its board of directors, with 10 recognisable politicians.
IDEAS' research, which is documented on its Pantau Kuasa website, also found that 56 FSBs are highly susceptible to political influence due to its chairpersons either being "clearly affiliated" with political parties or as they are current or former MPs, state assemblypersons and senators.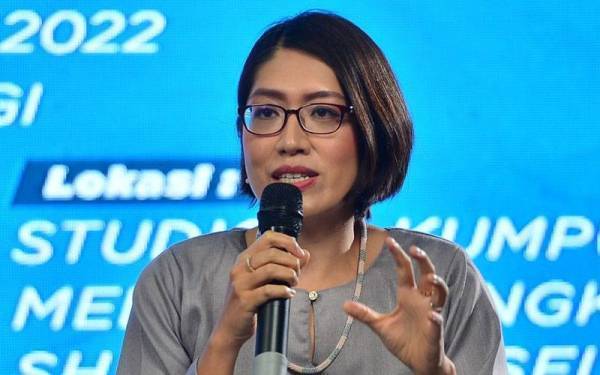 In light of the aforementioned data, Parliament's dissolution and the looming 15th General Election (GE15), IDEAS CEO Dr Tricia Yeoh strongly urged the incoming Government to proceed with caution on any post-GE15 appointments.
As the issue of political appointments has already resurfaced due to public concerns over the dissolution of Parliament and the absence of a formal Government, she said the caretaker Government should do some "serious reflection".
"These (the data findings) are some measurable indicators of the possible political compromises made to accommodate the various parties' interests within a coalition and to maintain political stability at the federal government level," she noted.
But having too many political figures within FSBs as the nation transitions and recovers from the devastating COVID-19 period brings into question the due diligence aspect of these appointment processes, she said.
Despite the constraints of unclear guidelines on the role of a caretaker Government, Yeoh said the buck falls on Ismail and the civil servants to, at the very least, adhere to non-partisanship as a way to restore trust towards the country's public institutions.
"Given what this research reveals, it is imperative that all political parties pledge to minimise political appointments as part of their election manifestos (as) it is in the best interest for all Malaysians to see greater commitment from the Government to resist party pressures in terms of rewarding loyalty with political appointments," she added. – Oct 18, 2022
Main photo credit: Suara Merdeka