IN A media statement issued by the Human Resource Ministry on Saturday (Oct 1), it announced that it has given approval for 541,315 foreign workers until Sept 26, 2022, of which 436,613 have already paid the levy.
The announcement was a surprise as employers from various sectors are complaining of an acute shortage of workers.
I call on Human Resources Minister Datuk Seri M. Saravanan to state the period these approvals were given, how they were given and if they followed the normal application process.
Furthermore, were these applications given special treatment because the employers knew the minister or they went through agents who have internal contacts and where extra payments were made?
I raise these questions because many employers have complained that it is impossible for them to get approval for their foreign worker quota due to the various obstacles at the Human Resources Ministry and Home Ministry without the help of an agent who has internal contacts in the ministries.
Besides that, extra money has to be paid to secure approval.
To date, Saravanan has not denied that some people in his ministry were collecting RM1,500 per foreign worker or other amounts of money before an interview was granted.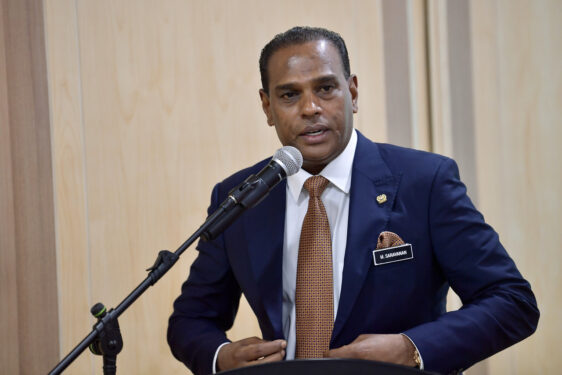 The complaints by the employers having to pay to get the appointment for an interview were also reported in The Star newspaper on Aug 5, 2022.
So, is the aforementioned media statement by the Human Resource Ministry just another lie from Saravanan?
Shown to have lied
He has been shown to have lied on the following occasions.
For instance, it was announced that the Foreign Workers Centralised Management System (FWCMS) website will be used for the application of the recalibration or legalising of foreign workers commencing July 1, 2021.
However, employers who tried using the website found it not functioning.
In October 2021, I received a written parliamentary answer confirming that the website was not functioning.
Then on July 26, Saravanan said in the Dewan Rakyat that an application for the foreign worker quota can be done online without having to go through an agent.
This was proven to be untrue as employers have to go through an agent who has internal contact while extra money has to be paid.
On July 29, Saravanan's ministry announced that commencing Aug 1, 2022, interviews for the application for foreign workers quota would be conducted at the Human Resource Ministry offices in the respective states, while for Kuala Lumpur, Selangor and Negeri Sembilan, interviews are to be conducted at Putrajaya.
However, this plan operated only for a few days and stopped without notice to the public.
And as before, the interviews are conducted only at the ministry's Putrajaya office, causing great inconvenience to the employers, especially those from distant states.
Saravanan also lied when he said I brought up the issue of the difficulty to get approval for foreign worker quota for personal interests when the problem is so widespread and employers from around the country are complaining. – Oct 5, 2022
Datuk Ngeh Koo Ham is the Beruas MP and the DAP spokesperson for law and Parliament.
The views expressed are solely of the author and do not necessarily reflect those of Focus Malaysia
Main photo credit: The Edge Markets