I MUST thank the longest-serving Inspector-General of Police (IGP) Tun Haniff Omar for declassifying a 1969 Official Secrets Act document – the statement I made to the police while in police custody at the Kuala Selangor Police Station lock-up under the Internal Security Act after I refused advice not to return to Malaysia and flew back to Malaysia on May 18, 1969.
I was asked by the police in 1969 what my political beliefs were, and I made eight points 54 years ago: 
Malaysia is a multi-racial, multi-lingual and multi-cultural society, and a viable Malaysian nation can only be formed if all the races and groups in the country are given an equal stake under the Malaysian sun.

 

Unless Malaysians of all races have more in common with one another than with their 'blood brothers' counterparts in China, India or Indonesia, Malaysia cannot be said to have become "A nation of Malaysians".

 

In a multi-racial society like Malaysia, violence and any ideology of force can only lead to the disintegration of the country because they quickly degenerate into racial conflict. I therefore deplore force and violence in all forms.

 

In a multi-racial society, if any racial group feels it is backward, either educationally, economically, culturally, linguistically or politically, then racial antagonism will be created. Every attempt must be made to remove these imbalances between the races and groups.

 

Poverty is not a communal problem. It is a socio-economic problem. To regard poverty as a racial problem is to increase racial antagonism in this country.

 

I want a clean, honest, efficient, incorruptible, and effective government.

 

Only parliamentary democracy can prevent a racial clash. Any other form of government will only lead to racial mistrust.

 

Communism is unconducive in a multi-racial society like Malaysia

 
I have lived by these eight points in my political life for over half a century and they should be basis for Malaysia to undergo a reset and return to the original nation-building principles our founding fathers have written into the Malaysian Constitution and the Rukun Negara for a plural Malaysia  — constitutional monarchy, parliamentary democracy, separation of powers, rule of law, an independent judiciary, Islam as the official religion of the country and freedom of religion for all faiths in the country, good governance, public integrity with minimum corruption, a clean and honest government, meritocracy, respect for human rights, an end to the various injustices and inequalities in the country, a world-class economic, educational, health and social system, and national unity, understanding and harmony from our multi-racial, multi-lingual, multi-religious, and multi-cultural diversity.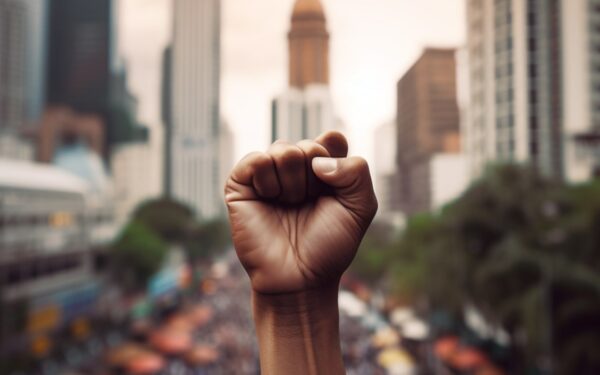 Nobody is asking a Malaysian to cease to be a Malay, Chinese, Indian, Iban, Kadazan, Muslim, Buddhist, Christian, Hindu, Taoist or Sikhism but we must be Malaysian first and our ethnic, religious or regional identity second. 
Since our founding in 1966, we have endeavoured to represent all Malaysians of various races, religions, and regions, which is why, beginning with the first general elections we contested in 1969, DAP has always offered a multi-racial and multi-religious slate of candidates.
On Monday (June 4), when I was conferred with the award of "Tan Sri" by the Yang di-Pertuan Agong, the police wanted to protect me because there were extremist and perverted messages on social media accusing me of causing the May 13, 1969 riots;  I was not Malaysian-born but Chinese-born and came to Malaysia when I was 18 and was a communist.
Yesterday (June 7), PAS president Tan Sri Abdul Hadi Awang again raised the May 13 spectre in warning against the "false narratives' spread by DAP to sway Chinese and Indian youths. 
It is Hadi who is trying to sway Malaysians with a false narrative instead of encouraging Malaysians to be world champions again and to play a significant role in contributing to global peace, understanding and diversity. 
I have said before that Hadi has failed to be a responsible, honest and respected Islamic leader because he made wild and preposterous allegations against the DAP and me that he could not substantiate when challenged to do so. 
I am issuing three additional challenges to Hadi to establish that I was in Kuala Lumpur and caused the May 13, 1969, racial riots, that I was born in China rather than Batu Pahat, Johor, and that I was a communist. 
DAP is now 56 years old but we have not deviated from these founding principles, unlike other political parties. 
The first four prime ministers who were also UMNO presidents Datuk Sir Onn Jafaar, Tunku Abdul Rahman, Tun Razak Hussein and Tun Hussein Onn for example, would not recognise the UMNO of today.
They were among the nation's founding fathers who established the original nation-building principles for a plural Malaysia but from which we had deviated in recent decades.
Former deputy UMNO president Tun Musa Hitam in the early to mid-1980s, recently asked, "My God, what have they done to UMNO?"
Malaysia must reset and return to these nation-building ideals in order for Malaysians to be world champions once again and to be a role model to the world for inter-ethnic, inter-religious, inter-cultural, and inter-civilisation conversation, understanding, tolerance, and peace.
Furthermore,  we should stop competing with ourselves and end up as a divided, failed, rogue and kleptocratic state, and instead compete with the rest of the world to be a role model for international society for inter-ethnic, inter-religious, inter-cultural and inter-civilisational dialogue, understanding, tolerance and harmony, and to avoid a clash of civilisations. – June 8, 2023
Veteran lawmaker and retired DAP supremo Tan Sri Lim Kit Siang is the incumbent MP for Iskandar Puteri.
The views expressed are solely of the author and do not necessarily reflect those of Focus Malaysia.