A MALAYSIAN United Democratic Alliance (MUDA) leader who recently cleared the air over her credentials as a doctor has been accused of falsely presenting herself as a public health practitioner despite not having the qualifications to do so. 
On Tuesday (Sept 27), MUDA vice-president Thanussha Francis Xavier took to Twitter to clarify that she had been accepted into an Ivy League university with her medical degree, a copy of which she shared as well.  
This after a netizen, apparently upset over Thanussha saying minority communities in Malaysia were being sidelined in an interview about her post-graduate studies, accused her of "playing the victim card" and asked where she graduated from, noting that her name was not on the Malaysian Medical Council's (MMC) registry. 
According to news reports, Thanussha studied at the Latin American School of Medicine in Havana, Cuba, in 2010 under a scholarship. She completed her house officer training abroad. 
She said on Tuesday that she did not end up submitting for registration as a doctor in Malaysia as she went into politics and because of the "ridiculous contract doctor system".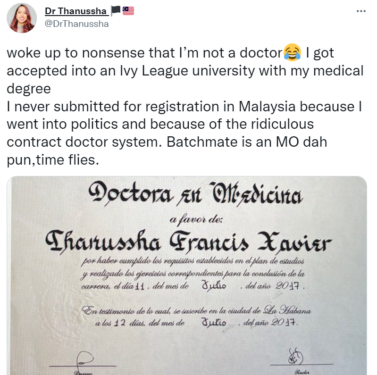 She is currently pursuing a Master's in International Relations at Columbia University in New York, US, after securing a scholarship from the US State Department.  
However, Kuala Lumpur Bar chairman Vivekananda Sukumaran pointed out that Thanussha was not qualified to practice as a doctor in Malaysia as she did not complete the local house officer programme. 
He also noted that the general definition of a "public health practitioner" refers to a person who conducts the daily work of public health on the front lines of federal, state and local health departments.  
"You speak to the press as a public health practitioner when in essence, you're not qualified to do so in Malaysia," he said on Twitter, adding: "It's not about the title you carry, so don't spin the narrative."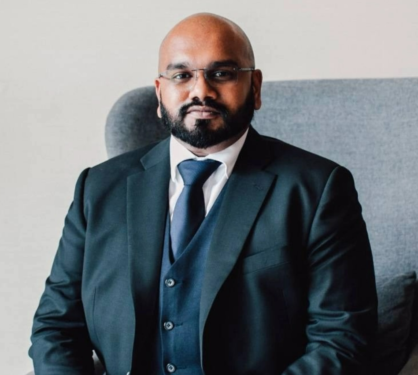 Vivekananda also attached a screenshot of the Medical Act 1971, which stipulates, among others, that those who are not registered as doctors but willfully or falsely use the title of a doctor of medicine are guilty of an offence under the Act. 
He further asked Thanussha to clarify an old ASTRO Awani Consider This poster of her and fellow MUDA co-founder Mathen Nair that recently made rounds on Twitter. Both were described on the poster as public health practitioners. 
"Buck the hell up" 
Vivekananda also urged MUDA president Syed Saddiq Syed Abdul Rahman to "buck the hell up".  
"Sorry @SyedSaddiq @partimuda, but you claim to (represent) the new (generation). If you have founders who this lazily (and) sarcastically address credibility issues in public, imagine how it would be if you're in power!" he said.  
As of press time, Thanussha has not responded to Vivekananda on Twitter. 
Meanwhile, several MUDA leaders have come to the aid of Thanussha, including Mathen, who similarly uploaded a copy of his medical degree and gave similar reasons for not specialising: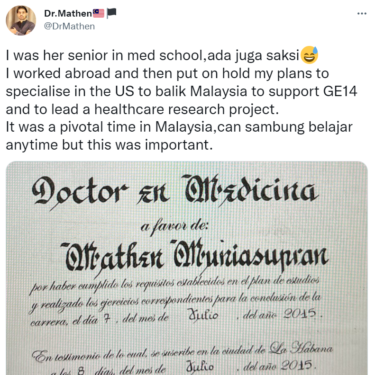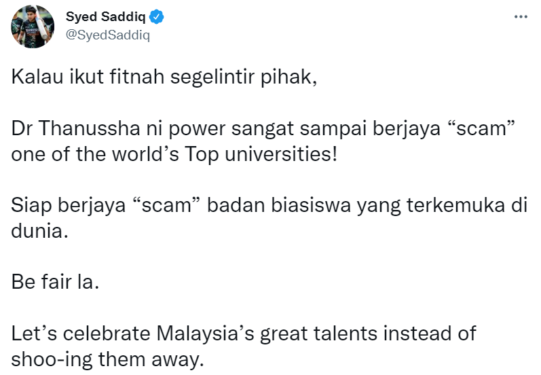 Thanussha has also found an unlikely ally in Health director-general and MMC president Tan Sri Dr Noor Hisham Abdullah, who joined the debate by tweeting: "Not practising, it's alright". 
In another reply to a user who asked if the title of public health practitioner can be used by someone not in practice, Noor Hisham said: "Meaning a person qualified as a public health specialist but not practising in this country." 
He has left other similarly cryptic tweets on the matter: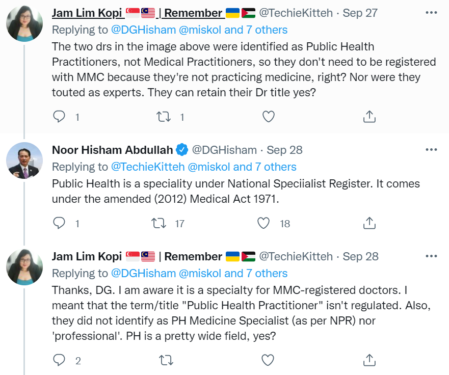 One such tweet was also deleted, leading netizens more confused than ever: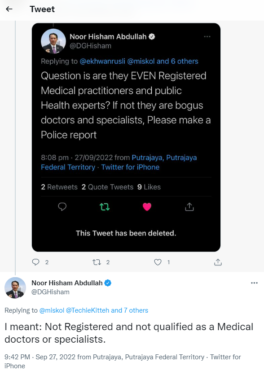 Interestingly, Noor Hisham issued a statement the very next day (Sept 28) to warn Malaysians to be wary of "certain parties" claiming to be registered medical practitioners or medical specialists, adding that no one can certify themselves as medical experts if their names are not in the MMC medical registry. – Sept 29, 2022  
 Main photo credit: Twitter