ALL Perikatan Nasional (PN) candidates from PAS, Bersatu and Gerakan who were nominated for the state polls on Aug 12 have passed the screening by the Malaysian Anti-Corruption Commission (MACC).
In addition, they are also certified "to be clean" by the Inland Revenue Board (LHDN), the Royal Malaysian Police (PDRM) and the Malaysian Insolvency Department.
In fact, the coalition's chairman Tan Sri Muhyiddin Yaasin stressed that all PN candidates were selected based on a stringent set of criteria.
"Thankfully, all those selected have passed the primary screening and the selection of these candidates was made by the Selection Committee according to the criteria set," he pointed out
during the unveiling of Selangor PN candidates in Taman Medan, Petaling Jaya last night (July 26).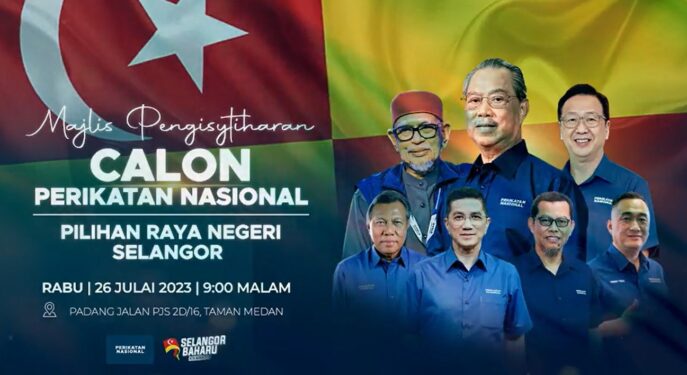 Also present at the event were PAS deputy president, Datuk Seri Tuan Ibrahim Tuan Man; Selangor PN chairman Datuk Seri Mohamed Azmin Ali and other Selangor PN movement leaders.
According to Muhyiddin who is also the Bersatu president, the state elections this time around is very important because it not only determines the future of the state administration "but rather has impact on the whole country".
The PN consisting of PAS, Bersatu, and Gerakan has announced that it will contest in the six states involved in the state polls with a list of 132 candidates in Selangor, Penang and Kedah.
To counter Pakatan Harapan's (PH) onslaught in Selangor, the state's PN's coalition will field three former federal ministers, three former state executive councillors and a former deputy state legislative assembly speaker.
Among others, Azmin who was the former Selangor mentri besar will be contesting in Hulu Kelang where he made his election debut in 1999. The former international trade and industry minister will be taking on his former protege Datuk Seri Amirudin Shari's political secretary Juwairiya Zulkifli in that state constituency.
Elsewhere, former women, family and community development minister Datuk Seri Rina Harun will be making her state election debut in Batu Tiga while newbie Nurul Syazwani who is the daughter of former UMNO warlord Tan Sri Noh Omar will face off with PH Selangor's elections director Mohd Yahya Sahri in Permatang. – July 27, 2023
Main pic credit: HarakahDaily