FORMER premier and Bersatu president Tan Sri Muhyiddin Yassin has claimed trial for one count of money laundering involving RM5 mil linked to the Jana Wibawa programme.
The Perikatan Nasional (PN) chairman had arrived at the Shah Alam Sessions Court at around 8.20am this morning to face one more charge for money laundering before judge Rozilah Salleh.
The money laundering charge laid out under Section 4(1)(b) of the Anti-Money Laundering, Anti-Terrorism Financing and Proceeds of Unlawful Activities Act 2001, read with Section 87(1) of the same Act, accused the 76-year-old of receiving RM5 mil in proceeds from the illegal activities from Bukhary Equity Sdn Bhd, and into Bersatu's account on Jan 7, 2022.
The Pagoh MP may be jailed for up to 15 years and fined five times the amount involved or RM5 mil whichever is higher.
In a brief media conference after hearing the charge against him, the Bersatu president said that the court has agreed to move his cases to the Kuala Lumpur court.
"I have pleaded not guilty to the charge and requested for the case to be transferred to the KL court," he told the reporters at the vicinity of the Shah Alam Sessions Court.
As Muhyiddin arrived in court, a crowd of supporters began to gather at the front gates of the courthouse. They are mostly clad in white shirts to symbolise their support of Muhyiddin's innocence.
Over 20 supporters arrived at around 8.30am with some donning navy blue PN shirts while others sported white shirts with Muhyiddin's photo and the slogan "Kita Bersama Abah" (We are with Abah).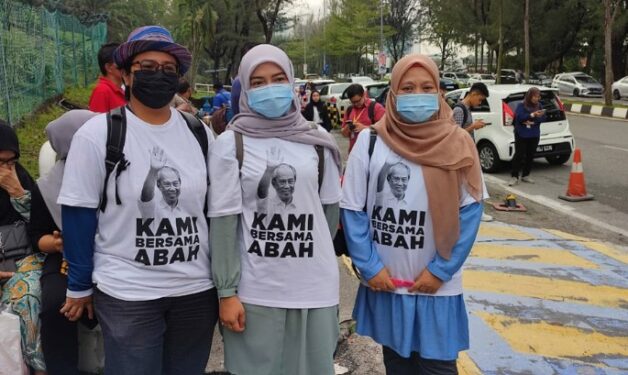 Also seen arriving at the court were Bersatu leaders Datuk Dr Radzi Jidin (Putrajaya MP) and Datuk Ronald Kiandee (Beluran MP).
Muhyiddin was previously charged with six counts of money laundering and corruption at Kuala Lumpur Sessions Court on Friday (March 10) where he pleaded not guilty and claimed trial to four counts of abuse of power and two counts of money laundering involving RM232.5 mil linked to the Jaan Wibawa programme.
Last Friday (March 10), Sessions Court judge Suzana Hussain had ordered Muhyiddin to pay RM2 mil bail and set May 26 for re-mention of his case. – March 13, 2023