MUSLIM women with the title of "wife" should abstain from openly sharing their family problems and 'juicy' tales with their husbands whether on social media or with their friends and colleagues.
Not only that such action is an act of betrayal to their spouse for they may backfire on the couple, it could also put their safety in jeopardy both in this world and the hereafter, according to PAS Dewan Ulama committee member Mokhtar Senik.
"Try to understand where your husband wants to take you. If it's towards goodness, follow obediently, If it's towards an evil cause, advise him respectfully," he penned his thoughts in PAS mouthpiece HarakahDaily.
"Try to stare deep into his eyes. They keep a lot of secrets. But those eyes won't shed tears in front of you because he doesn't want to be seen as weak for he knows you want to cling to him."
Stressing the need to be grateful for what they have, Mokhtar further reminded the women folks that they "need not compare their husbands nor their lives with anyone, even with their brothers".
"Because if Allah has blessed you with a religious life and a halal livelihood for you and your children, this is already a great bliss. Never betray God's grace," shared the former PAS Pahang's Dewan Ulama chief.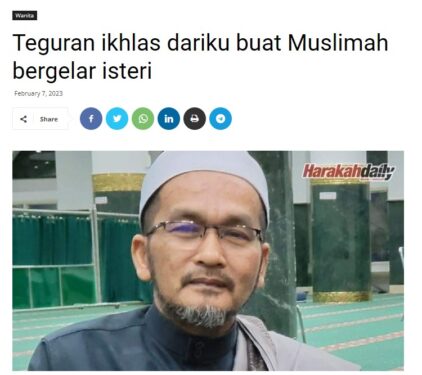 Earlier, Mokhtar cautioned that today's age is "one full of slander where what is wrong is considered true and what is true is considered wrong".
"Hatred and enmity lead to misunderstandings, scandalous slanders and quarrels that lead to vengeance and endless animosity," he warned.
Therefore, he advised Muslim wives to spend as much time as possible with their husbands and children.
"Create an atmosphere of love for knowledge and worship in your household. Abstain from creating an atmosphere of neglect by seeking entertainment and luxury. Remember that all of us don't have much time to prepare for ensuing chaos when end of time strikes," he revealed.
"Be a good and obedient wife. Because a husband for a wife is exactly who a Prophet is for his disciples. To him you rely on for love and contentment for he is your heaven after both of you entered into matrimony. Help him as much as you can because all his actions and activities are intended for your good in this world and hereafter." – Feb 8, 2023