AS expected, Perikatan Nasional (PN) chairman Tan Sri Muhyiddin Yassin has denied issuing a fatwa while alleging that "someone quoted my speech in the Sept 2 ceramah in Pulai out of context".
The culprit/s, claimed the Bersatu president, has manipulated his speech in such a manner as if he has issued a forbidden fatwa against voting for the Pakatan Harapan (PH) candidate in the Pulai by-election.
"My speech was long. I touched on various issues faced by the people at this moment, especially the burden of cost of living that the PH government has failed to manage effectively. That's why I called on voters in the Pulai parliamentary constituency not to vote for PH candidate Suhaizan Kayat," Muhyiddin reasoned out on his Facebook page.
"I didn't issue a fatwa based on the syarak law that it's illegal to vote for the PH candidate. I had just metaphorically mentioned 'this is forbidden' without any intention of equating it as a fatwa based on the syarak law.
"This is because I know what I had mentioned was not a fatwa based on the syarak law. That's why I did quip soon after that 'someone may challenge me tomorrow which fatwa am I referring to'."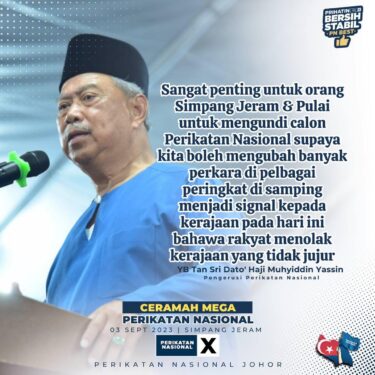 For context, police are investigating the political fatwa which was alleged issued by Muhyiddin while campaigning for the Pulai parliamentary by-election. Bukit Aman Criminal Investigations Department director Datuk Seri Mohd Shuhaily Mohd Zain said the 3R (race, religion and royalty) statement was made by Muhyiddin last Saturday (Sept 2).
"The police have confirmed investigating Muhyiddin for claiming that voting for former Johor state assembly speaker Suhaizan Kayat is haram. Two police reports have been received over the statement so far," he pointed out in a recent statement.
"The appointment to take his statement according to Section 112 of the Criminal Procedure Code is set for Sept 11 at his office in the MIDA Building in the Federal capital by the Bukit Aman Classified Crimes Investigation Unit."
As someone who understands religious laws, Muhyiddin said he is well-aware that he cannot arbitrarily issue any religious fatwa.
"This is especially so as there are particular bodies like the National Fatwa Council which has the jurisdiction to issue a fatwa after conducting muzakarah (discussion) with the ulama and various other Muslim scholars who are experts in the related fields," justified the Pagoh MP.
"I believe those who followed my entire speech would understand what I meant. Based on the response of the attendees that night, I'm confident that they did not seriously assume my statement as if I was issuing a religious fatwa."
Added the former premier of 17 months: "(As such), I believe my speech was taken out of context and manipulated by certain parties to confuse the public." – Sept 7, 2023
Pic credits: Facebook/PAS Johor