THE adage that there is no such thing as bad publicity has certainly been true in the case of Pumbaa Nasi Kandar + Nasi Lemak stall in Damansara Jaya, Selangor.
After the furore kicked up by the Malaysian Muslim Restaurant Owners Association (PRESMA) president Datuk Jawahar Ali Taib Khan over a social media influencer's video promoting the stall's nasi kandar babi business has been booming.
To recap, Jawahar had claimed that nasi kandar was essentially a halal dish served at Indian Muslim restaurants and the video would confuse customers.
However, after the stall owner G. Suresh explained that he was operating in a Chinese kopitiam with a sign clearly denoting that the food was non-halal, the PRESMA head honcho was forced into a climb down.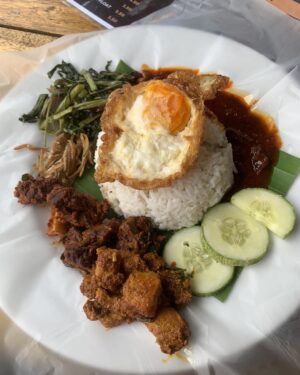 With the story gaining traction on both social and mass media, customers have been flocking to sample owner Suresh's spicy pork varuval. Photos posted by netizens show long queues forming as early as 8am with many warning others to come early to avoid disappointment as the food was sold out by noon.
Renowned political scientist Professor Wong Chin Huat from Sunway University became a fan of Suresh's food when he posted a long queue with a catchy caption on his Facebook page yesterday (Nov 5): "The queue for Nasi Kandar Tidak Halal at 11.25am. Was told it would finish by noon."
Netizen Leong Ming Lai responded: "The fact this story going viral has helped this stall and the kopitiam. Not a bad outcome at all" while Anthony Alan Lukose had a more humourous take when he injected a touch of political commentary by declaring: "The infidels are fighting back..!!! By EATING."
Even Muslim Sharifuddin Abdul Latiff made an acute observation when he commented: "Well, I guess PRESMA lost a segment of its market share on nasi kandar due to its ketuanan attitude."
It is indeed a sign of the times that thinly veiled racial and religious rhetoric has spilled into this sphere. Many Malaysians have responded by showing support for the stall while some netizens have chided the PRESMA supremo for creating a furore out of a non-issue.
Malaysiakini had even quoted Penang mufti Wan Salim Mohd Noor as saying there was nothing wrong with the dish as long as the "non-halal" sign was displayed.
PRESMA's attempt at culinary hegemony is, indeed, laughable bordering on the ridiculous. Malaysians have been borrowing from each other's culinary traditions for decades and long may it continue.
Anyway, Suresh says he harbours no ill-feeling over the incident. How can he when it has helped his business boom?
Those wanting to see what the fuss is all about can visit:
Good Old Days Restaurant & Bar (Non-Halal)
2, Jalan SS22/25 Damansara Jaya
47400 Petaling Jaya, Selangor
Tel:  016-303 3442
Main pic credit: Wong Chin-Huat's Facebook