EVEN if it is courteous enough not to disrupt an on-going police investigation into cases that were opened prior to the 15th General Election (GE15) on Nov 19 last year, the unity government must ensure that it does not follow footsteps of the previous regimes to rein in dissent by merely restricting freedom of expression.
A case in point is how former Bar Council president (2007-2009) and co-chairman of the BERSIH 2.0 electoral reform group (2011 to 2013) Datuk Ambiga Sreenevasan and lawyer-cum-human rights activist Siti Kassim (Siti Zabedah Kasim) were summoned to Bukit Aman yesterday (Jan 19) to give their statements over alleged raising of sensitive racial issues.
This is pertaining to the forum entitled Dark Forces Towards 15th General Election held on Sept 17 last year in conjunction with the launch of books "Dark Forces Changing Malaysia" and "Malaysia Towards 15th General Election and Beyond" by public policy analyst Lim Teck Yee and political commentator Murray Hunter respectively.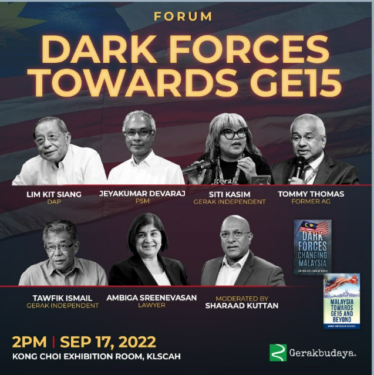 On Oct 18 last year, the Royal Malaysia Police (PDRM) secretary Datuk Noorsiah Mohd Saaduddin had confirmed that former attorney-general Tan Sri Tommy Thomas and Parti Sosialis Malaysia (PSM) chairman Dr Michael Jeyakumar Devaraj made remarks that violated the law during the said forum.
The PDRM statement further noted that the police are investigating the case under Section 505(c) of the Penal Code (intentionally causing public panic and breach of public peace) and Section 233 of the Communications and Multimedia Act 1998 (improper use of network equipment or network services).
"The police were truly professional and I'm truly embarrassed at how they are wasting police time by conducting investigation like this … It's very clear to me that this investigation was one of the demands of UMNO," opined Ambiga in a TikTok video outside the Bukit Aman police headquarters.
It is believed that veteran lawmaker and former Iskandar Puteri MP Lim Kit Siang was also summoned on Wednesday (Jan 18) but has not posted such development anywhere.
"As such, I wish to ask PH (Pakatan Harapan) if this this is one of the demands by UMNO with regard to the investigation on Thomas' memoir (My Story: Justice in the Wilderness) …  it is (also) clear to me that this is connected to the charges that have been brought against some of the UMNO leaders," Ambiga further pointed out.
"To me, this is utter abuse of power and I really want to know what else you (PH) have given away to UMNO."
Concurring with Ambiga, Siti Kasim said it was a sheer waste of the police time when it was unclear "what kind of offences have been committed basically".
"This is an attempt to suppress our freedom of expression … seriously, this is something the current government need to look into. We must rise against any attempt to curb our rights in expressing ourselves on any subject matter that we are not happy about," she berated. "You call yourself a reformist government … what are you doing, what is going on?"
The duo's legal eagle Rajsurian Pillai could not agree better. "Although the police were professional in their dealings with Siti Kasim, Ambiga and their counsel (Rajsurian), it's still a surprise that with the current government, such matters are still being investigated by PDRM," the human rights lawyer told FocusM.
"It is my opinion that this is a waste of time and resources which could be better channelled towards more pressing and serious crimes in the nation. Not a forum such as the above. I hope that moving forward, the (current) government will uphold the freedom of speech and expression and not open criminal investigations for such events." – Jan 20, 2022