THE Nehemiah Group, a specialist contractor in the construction industry, is upbeat about prospects of the construction sector in 2023.
The Group has managed to weather the storm throughout the COVID-19 pandemic although its turnover was hit in the past two years.
"Although the construction business is still sluggish, we have consolidated our business," revealed Tan Cheng Chong who is the executive director of the group's subsidiary, Nehemiah Towoong Bridgetech Sdn Bhd's (NTB).
"As a group, we are well positioned to benefit from the infrastructure industry which is expected to pick up again by 1Q 2023 ear after the Government prime pumps the construction sector."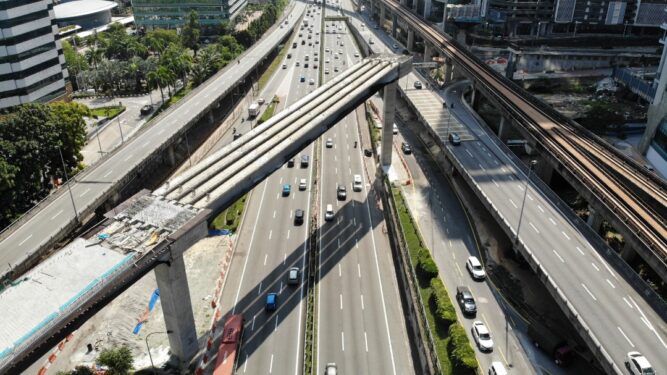 The Nehemiah Group is eyeing for new government and private projects which are in the pipeline.
The group expects the BH girder used for the construction of flyovers for highways to contribute 30% of its revenue. Most of the group's work was centred on the newly completed Setiawangsa Pantai Expressway, the Light Rail Transit Line 3 (LRT3), and other Public Works Department (JKR) jobs.
Half of the group's annual turnover comes from its main core product – the Nehemiah Wall –while the other 20% comes from Nehemiah Prestress which offers cost-effective post-tensioning systems for the infrastructure industry.
In 2021, the Malaysia Book of Records certified that NTB's BH Girder measuring 63.11 metres as the longest T-shaped beam in the country. Used at the Kerinchi Interchange of the Setiawangsa Pantai Expressway, the girder weighed 210 metric tonnes each.
"In order to stay ahead of the competition amid rising costs, out group is investing in research and development (R&D) while working alongside with our partner in South Korea, to innovate more cost effective and better performance BH girders for the local market," added Tan who is also the Nehemiah Group's executive director..
Developed and customised by Toowong Engineering & Construction of South Korea and the Nehemiah Group, each BH girder is typically 60-metre long instead of the conventional beams which measure 40 meters.
Yesterday (Oct 11), Senior Minister of Works, Datuk Seri Fadillah Yusof graced the Nehemiah booth at the 11th edition of the Malaysia Road Conference & Exhibition 2022 at World Trade Centre Kuala Lumpur. – Oct 12, 2022