PRIME Minister Datuk Seri Anwar Ibrahim has generated mixed reaction from the public over his Malaysia Madani (Civil Malaysia) initiative. While some have praised the government's efforts, others have been critical of what the Pakatan Harapan (PH) chairman expects from the slogan.
Apparently, an information chief of a Bersatu Armada (youth arm) division in Perlis went the extra mile to mock the acronym M.A.D.A.N.I. by 'twisting' it to humiliate Anwar as a sodomist who manipulated Islam in the process.
Interestingly, the youth leader who is believed to be an insurance/takaful agent found his malicious intent backfired on him after his original post garnered backlash from netizens.
The worst part of this whole ordeal is that he used his personal Facebook account to post the so-called 'personal' attack on Anwar. He claimed in his apology video that he posted the comment as a reply to Communications and Digital Minister Fahmi Fadzil.
He has since issued an apology video and has apparently changed his name on Facebook, but this has been met with scepticism and disbelief by netizens.
Many believe that he is only sorry after he has been caught red-handed, and not for the offensive and inappropriate comments that he has made against Anwar.
This serves as a reminder of the influence and reach of the public, particularly in the digital age where netizens have access to powerful tools to hold individuals and organisations accountable for their actions.
Twitter user @CapsLock99 stated:

In English, the netizen chided the Bersatu Youth leader of "merely shedding tears over the fact that he has children (of his own)" with the hope that the public would sympathise with him.
However, he failed to be in control of his own thought process when he mocked Anwar and the ruling government publicly. In essence, his comment failed to reflect how it would affect the feelings of Anwar Ibrahim, (his wife) Datuk Seri Wan Azizah (Wan Ibrahim) and their children.
Another Twitter user @Kranjitsandhu stated:

In plain English, the netizen chastised unconstructive criticism against Anwar who is trying his utmost best fix the country, and that merely penning hate comments without proper contribution would not help in any way given that "united we stand, divided we fall".
Twitter user @RedBrothers360 is also dumbfounded as to why Bersatu supporters are so obsessed with their political party and how by hitting others below the belt would render the Perikatan Nasional (PN) coalition party an upper hand in spreading lies to other people.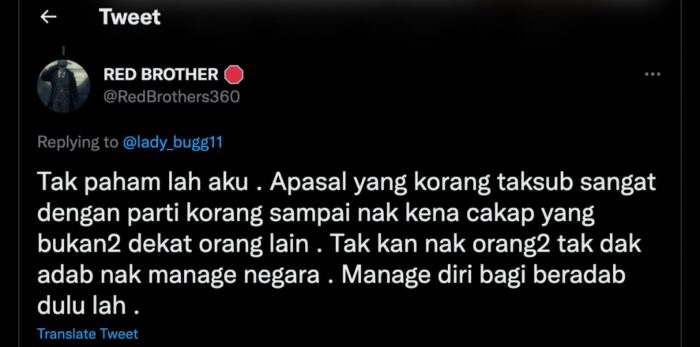 Surely, the netizen is spot on to associate the Bersatu Youth leader's behaviour to the political party he is in. "Would any of us want uncivilised leaders to manage our country? This party leader has to learn some mannerisms first before he' able to run a country," he added. – Jan 25, 2023