MUDA president Syed Saddiq Syed Abdul Rahman is dumbfounded as to why Cabinet members of Prime Minister Datuk Seri Anwar Ibrahim's unity government has yet to declare their assets after seven months in power.
"This is about Good Governance #PolitikBaru. This has been a practice since 2018. Even shared openly via (the) MACC's (Malaysian Anti-Corruption Commission) website," he tweeted. "Why stops this policy? What is there to hide?"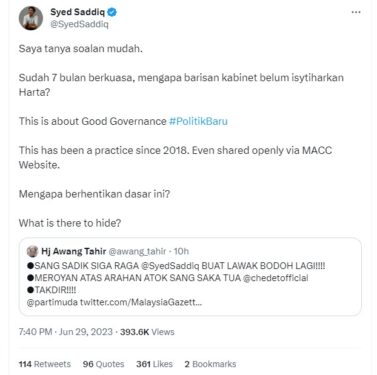 Interestingly, his tweet invited a barrage of criticism rather than support ranging from netizens @____ExSolja____ and @decks_dark asking the Muar MP to pose the question to Anwar during his PM Question Time (PMQT) session to @fadli_izmir wondering if "MUDA's Derma Banjir audit been shared with the rakyat as now already 2023?"

Netizen @garis3lintang reminded Syed Saddiq that Anwar and fellow PKR leaders in the Cabinet has declared their assets prior to the 15th General Election (GE15) on Nov 19 last year but it has to be borne in mind that this is not a Pakatan Harapan (PH) administration per se.
"There is UMNO (in the government). They're unwilling to declare (their assets)," explained @garis3lintang with @fazlysh seconding that "all PH principles and (coalition) manifesto cannot longer be implemented because there are differences (with that of other coalition partners)".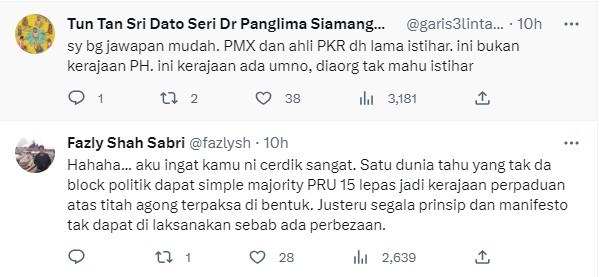 Netizen @thefikrey reminded Syed Saddiq that not only is he part of the government, but he could have brought up the matter seven months ago instead of highlighting it now with the state polls looming.
"Moreover, this is not a state thing to begin with. Since we are here (on this subject), where is MUDA's Audit Banjir? It has been six to seven months already," @thefikrey hit out.
Netizen @kahunashowz wondered why only now Syed Saddiq is "crying" about the unity government not being able to dissolve issues pertaining to the National Higher Education Fund Corporation (PTPTN) loans and decriminalising the controversial Universities and University Colleges Act (AUKU) 1971.
"Yet when you were in KBS (Youth and Sports Ministry) for one year and 200+ days, you didn't even attempt to resolve the issues. It has (only) been seven months for the unity government. We gave you almost two years as a KBS minister."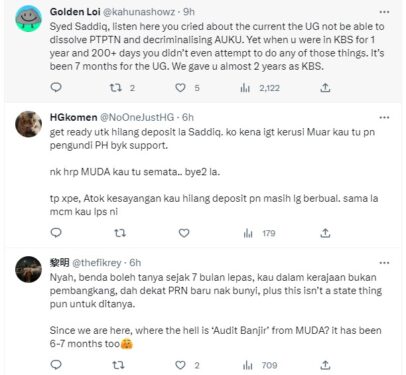 Perhaps the most lethal reaction came from @NoOneJustHG who issued a stark reminder to the so-called once-blue-eyed-boy of two-time premier Tun Dr Mahathir Mohamad during their Bersatu heydays:
"Get ready to lose your deposit, Saddiq. I have to say that your Muar seat has lots of PH supporters. But to rely solely on MUDA can prove to be underwhelming. But never mind because your beloved 'granddaddy' (Dr Mahathir) has previously lost his deposit but still able to chat (on social media). You can do likewise soon."

For the record, Syed Saddiq has reportedly declared a net asset value of RM1.9 mil in the run-up to the GE15. He said the declaration of property he owned as of Sept 30, 2022 was made in accordance with the Statutory Declaration Act 1960.
Syed Saddiq said the assets were acquired before and after joining politics and during his tenure as youth and sports minister. – June 30, 2023