NETIZENS have rebuked former MP, lawyer and blogger Wee Choo Keong for telling Transport Minister Anthony Loke Siew Fook to step down following the latter's "undercover job" not bearing fruit given "insane" intervals of the Mass Rapid Transit (MRT) train intervals in recent times.
"What had happened to his undercover job? Not working after all. The situation has gone from bad to worst. Loke should take the honourable step to resign – let other more competent person do the job for the rakyat!" lambasted Wee who was once the MP for Bukit Bintang and Wangsa Maju.
His tweet came about after Twitter user TofuMaster (@TofuMaster4) claimed that intervals between train has gone "insane" with intervals run between eight and 20 minutes for each train.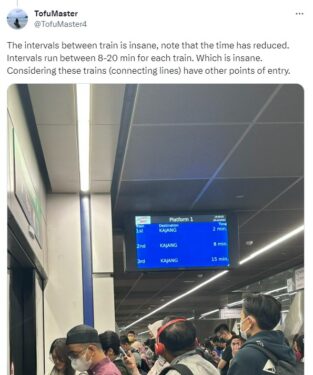 This is when netizen @AnbalaganRamas3 chided the former DAP politician for having a bone to pick with Loke who is currently the party's secretary-general.
"Don't simply blame YB Loke … You think his job only look after MRT issues only, isn't it … Things will be solved in stages," said @AnbalaganRamas3.

His view was seconded by netizen Rahman Ariffin (@ManPin) who reckoned that a minister's job is to establish policies and guide or direct people within his territory.
"His job is not to go undercover here and there (great political and popularity points though). His job is to change those people working in the train companies to not be lazy doing their jobs," opined Rahman.

Netizen M Syafiq (@syafqz) also hit out at the former Tourism Malaysia chairman for telling Loke to resign.
"If the MRT is at fault, its CEO is the one who has to resign. Plus, it's not exactly (the) minister's job to add to the frequency (of) trains," noted Syafiq.

Jegan Jek (@jegan_jek) lamented that it is easier for Wee to criticise others now by being a keyboard warrior while ML2889 (@MaveLoh) corrected Wee by revealing that current interval between trains is six minutes (as opposed to eight to 20 minutes as claimed).

In describing Wee's comment as "dumb", netizen N. Khalid (@Radioactive9M) praised Loke who is also the Seremban MP for "doing a great job, better than the previous ones (ministers)" while EC Lim (@ECLim09367682) sees Loke as "the hardest working".
"If you are not happy with him, the solution is simple. Please stand against him in the next GE (general election). Publicise all his faults and you may win hands down. Ain't this a good suggestion?" asked the netizen. – July 7, 2023