MUDA president Syed Saddiq Syed Abdul Rahman was chastised by pro-Pakatan Harapan (PH) supporters after he sounded as if he is taking the side of former Bersatu founder Tun Dr Mahathir Mohamad by insulting PH with a remark that "dragging the royal institution in every political campaign is unethical".
For context, the former Bersatu Youth chief who was deemed the blue eye boy of the now Proklamasi Melayu chief advocate has earlier ticked off Permatang PH-Barisan Nasional (BN) candidate Mohd Yahya Mat Sahri who equated the act of damaging the poster of Prime Minister (PM) Datuk Seri Anwar Ibrahim as disrespecting the Yang di-Pertuan Agong (YDPA).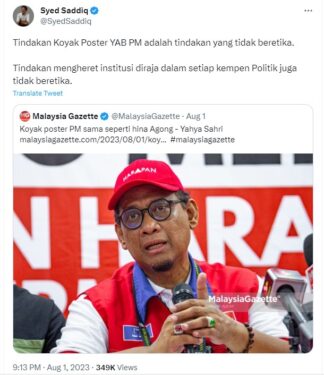 "Day by day your comments are getting more ridiculous … it's very clear where you stand," lambasted netizen Sunshine Thehungrylion (@DSDAPS1). "I think those in MUDA should not make him the president in the next AGM … if MUDA want to be a game changer political party with him in here, (then) it's hard for MUDA."
🏴🏴 (@pak_jokoo) regretted for thinking that the Muar MP is different from the others "but you are the same".
"Why didn't you speak up when Sanusi (caretaker Kedah menteri besar Datuk Seri Muhammad Sanusi Md Nor) ridiculed the Sultan of Selangor? Is it because you've already been with PN?" wondered the netizen.
"Believe me, many young souls who are your supporters are disappointed with you. Sorry YB, you have no respect from me."
Netizen Mr. Fahrenheit (@yuuohta_) seconded: "Always the case that his party is right, if not then PN. You kept your mouth shut when PN despised the royal institutions. But when PH issued a statement, even though the PM is not at the same level as the Agong, you just have to belittle them. You must be fair by not hitting only one side all the time."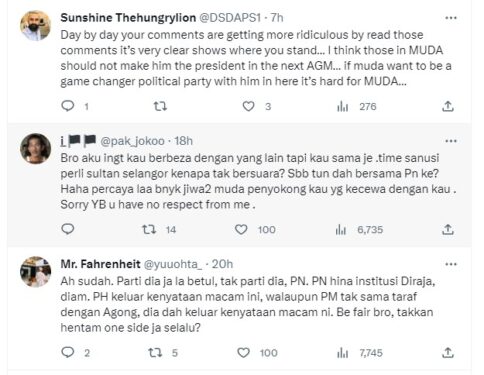 Netizen Kishiro Naedo (@KishiroNaedo) also took a swipe at the former youth and sports minister by reminding him that "your whole political existence is shorter than #PMX's incarceration period and you thought you can cheat us by playing neutral?"
"There are a lot of instances to blame on PH but you were quick to forget their deeds as well. Wonder who benefits from that. Boy, you've disappointed me!" berated the netizen.
xennials.my (@xennials2) asked Syed Saddiq if "it's ever ethical" to support PN chairman Tan Sri Muhyiddin Yassin who is facing court charges for abuse of power in relation to the JanaWibawa programme while VR19 (@iamvrajan) teased that he "was angry like hell when someone tore the poster of Dr Mahathir but now, he seems to sing a different tune". – Aug 2, 2023