ECONOMY Minister Rafizi Ramli found himself in the firing line upon unveiling two so-called "important announcements" pertaining to his portfolio that will happen today.
In a tweet late yesterday evening (July 26), the Pandan MP said Prime Minister Datuk Seri Anwar Ibrahim will launch the Madani Economy Framework in the morning while he himself will do a similar honour for the National Energy Transition Roadmap (NETR) in the afternoon.
"These two plans will explain the direction of the Malaysian economy for this decade. The purpose of this government is to attract investors, generate high-value career opportunities and increase people's income," he posted on his Twitter page.
"But attracting investors to Malaysia is not just a meeting activity. To convince investors, we have to answer their questions, namely what the projected return on investment (ROI) is and what is so special about Malaysia for them to invest."
In a short and sweet response, Azroque (@Azroque1) expressed hope that "this is not JUST another FORMULA" but fellow netizen JAFRI HUSSIN (@jafri1711) is less forgiving.
"What's so great about launching the economic plan? The ringgit has fallen badly … it has been eight months since you came to power and you only want to construct the framework now when the people have been greatly impoverished," berated the netizen.
"It used to be that PN (the Perikatan Nasional administration) that was stupid and didn't take care of the economy. Now PH-Umdap (UMNO-DAP) is more stupid."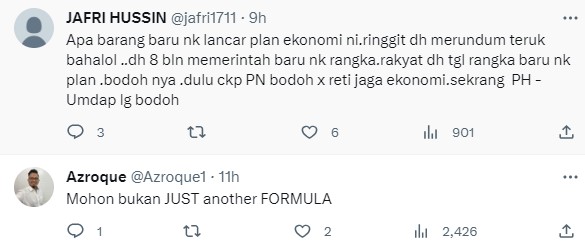 Linda Din (@bit19022) seconded this by hitting out at the unity government for only being concerned about the country's economic direction so close to the six state polls (slated for Aug 12).
"Has it been sleeping on the job over the past eight months? You should stop sweet-talking the people … it's obviously too late that only now you and madanon (a slang referring to Anwar's government) wish to implement the plan".

Netizen zamri abbas (@ZamriAbbas) claimed that there is no clear sign that the Madani government has laid out proper initiatives to help the people. "It seems like we're having a failed government before us …Please don't spend too much time politicking," he advised.

However, a more reasonable shuk 77 (@shuklenovo77) opined that whatever the policies are, they have to benefit the people at all costs. "Numerical and statistics alone mean nothing if the people are still facing hardship. Ultimately, these policies must give real hope to the people," he justified.

Finally, naza narul (@NarulNaza) offered a much-needed support to Rafizi by wishing him all the best in pursuing his efforts to develop and advance the Malaysian economy.
"We think positively. You have five years to develop Malaysia. It has only been eight months," added the netizen. – July 27, 2023