DEPUTY Finance Minister Steven Sim Chee Keong (main pic, far right) has scored brownie points among netizens with his 'layman-friendly' explanation with regard to concerns over the Budget 2023's proposal to raise tax rates for incomes above RM100,000.
The simplistic explanation of the DAP Bukit Mertajam MP is such that:
There is no additional tax to be paid if one's taxable income is less than RM230,000 per year; and
One need not pay more tax if one's salary is below RM20,000 per month.
"I understand that an income of RM10,000 a month in big cities such as Selangor, Kuala Lumpur, Penang nd Johor Bahru is not as luxurious as expected. Many commitments and high cost of living," he penned on his Facebook page.
"In fact, if your salary is below RM20,000 per month, you will be able to enjoy the tax rate reduction announced by PMX (Prime Minister Datuk Seri Anwar Ibrahim). This means, there are tax savings of up to RM1,300 (refer to the attached table)."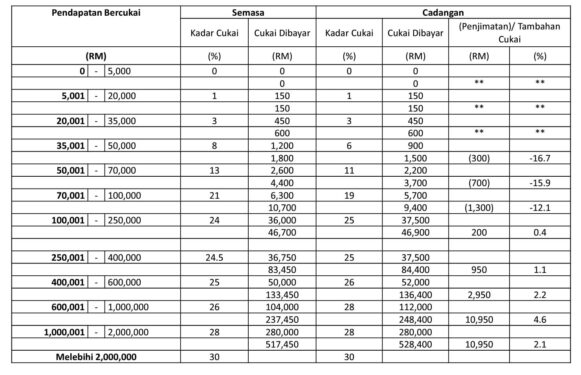 Sim went on to explain that only those who earn more than RM20,000 per month will be subjected to a tax rate increase.
"Even so, if the taxable salary reaches RM250,000 per year (monthly salary exceeding RM20,000), the tax payable in excess for that year is only RM200. Hope this enlightenment can be beneficial. We work together and the road will be filled."
Below are some feedback from netizens:
Ramli Osman

Khor Chee Wee

Al Lamin: I'm like Mr Steven because he likes to chat on FB and listen to the views of ordinary people. People with brilliant ideas can always share their thoughts … Excellent job, Mr Bukit Mertajam.

Ellyana Elisa: I appreciate what the YB is doing. We are happy with Budget 2023 because we need a change. Previously, only educated people could understand tax-related matters.

Raja Gelap: YB… I have to pay additional tax. But I'm not angry and willing to do so because I know this (unity) government will not waste my money. For a better country. As long as the government is honest, I'll continue to render support even if I have to pay more taxes.

Ibnu Musa AB: Ouch, your salary has reached RM20,000 and you are still unwilling to pay higher taxes. Even though I belong to the M40 category, I still pay at least RM120/year to do business with an income of RM6,000-RM7,000/month. When one pays tax, it makes it easier to apply for a loan to grow one's business. Come on T20 fellas, it's a shame for us who are M40 to pay tax. After all, it's just a small rise. It's for our country's sake. – Feb 27, 2023