Editor's Note: On Dec 2, Malay news portal Kosmo Digital clarified that the helicopter that was once used to fly Prime Minister Datuk Seri Anwar Ibrahim during his 15th General Election (GE15) campaign was owned by the owner of Weststar Aviation Services Sdn Bhd (WAS) Tan Sri Dr Syed Azman Syed Ibrahim.
Apparently, the millionaire from Sungai Petani, Kedah had lent one of his helicopters to make it easier for Anwar to campaign all over the country.
FORMER principal private secretary to Bersatu president Tan Sri Muhyiddin Yassin during his tenure as prime minister Marzuki Mohamad has sparked fury among political-savvy netizens for urging the authorities to probe PKR and DAP's "huge" election expenditure.
The cyber sphere has generally deemed his 'loose' claim that PKR and DAP's campaign expenditure during the 15th General Election (GE15) that ran into hundreds of millions – including private jet and helicopter trips by Pakatan Harapan (PH) chairman Datuk Seri Anwar Ibrahim – as a hallucination.
"Based on my rough estimate, PKR and DAP's campaign expenditure was in the hundreds of millions. Where did the money come from?" Marzuki has chastised the PH coalition in a statement issued last night (Feb 2).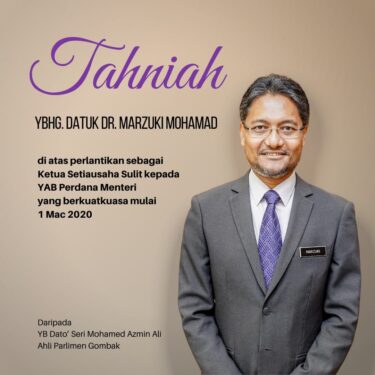 "PKR and DAP rule Penang, Selangor and Negeri Sembilan. Did PKR and DAP not receive any contributions from businesspersons or tauke which did business with those governments? I'm just asking, not alleging."
Marzuki's shallow statement got Malaysiakini's subscriber Kawak amused.
"Ha ha … PN (Perikatan Nasional) and PAS has no answer to hundreds of millions spent on election from siphoning of public funds. (Marzuki's) attack of PKR and DAP is baseless as (the) contributions come from private persons that are not public funds," suggested the netizen in the independent news portal's comment section.

Lionking told Marzuki not to waste his time by coming up with something intangible while BrownCheetah9736 chided him that "contributions from individuals and taukes can never match the amounts siphoned from projects or kickbacks received from businessmen for mega projects".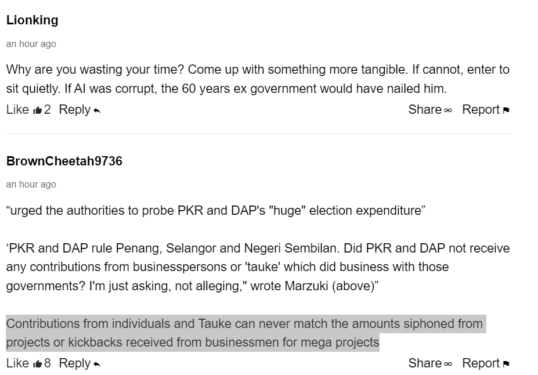 Vulcan King berated Mazuki for his unsound mind by "comparing a helicopter ride to his ex-boss siphoning RM300 mil which was traced and found credited into his party's (Bersatu) account".

TTSH told Marzuki to verify his claims with Amanah or Muda as DAP has been helping them all these while to raise funds for their election campaigns.

GrayPigeon2115 also questioned the need for the Malaysian Anti-Corruption Commission (MACC) to probe Anwar's helicopter ride which is likely "provided to him and paid for by his supporters".

PinkJaguar1612 cautioned Marzuki the prospect of "another breaking news on the allegation that certain leader received a large amount of contribution of US$500 mil with regard to settlement of 1MDB with Goldman Sacs surfacing soon". – Feb 3, 2023
Main pic credit: Kosmo Digital