AS the Kampar Hospital reprimanded the medical officer in the kerfuffle over dress codes, netizens have seemingly given Health Minister Dr Zaliha Mustafa a tongue lashing for taking a moderate stance in the matter instead of backing up the staff involved in the incident.
This comes about as the Sekijang MP who is herself a medical practitioner is perceived to be 'siding' the female patient who was barred from entering the Kampar Hospital in her social media comment of the incident.
"I would like to reaffirm that in principle, every patient deserves treatment priority regardless of race, race or dress code of ethics," Dr Zaliha penned in her Facebook page yesterday (Feb 15) evening.
"Every medical practitioner needs to care fot their ethics after taking oath. The Hippocratic Oath sworn by doctors and medical practitioners includes a willingness to help patients to the best of their ability."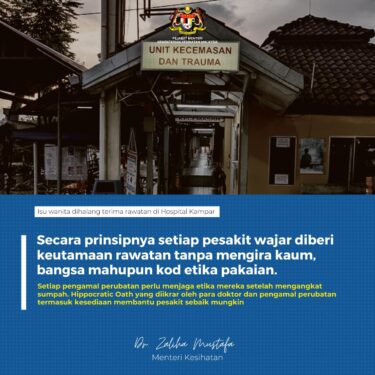 Netizen Abu Raed fired the first salvo, describing the Health Minister as "powerless" in her handling of the matter.
"The dress code is nothing new. There is also an oath in the Rukun Negara (National Principles) – Kesopanan dan Kesusilaan (Courtesy and Morality) – henceforth, the dress code is important at all government department premises," he berated in a reply to Dr Zaliha's post. "Don't be weak YBMK! (YB Health Minister)."

Mohd Firdaus Mohd Yusof wished to know if the minister was trying to secure her "political mileage" with her stance in the matter.
"There is a need to be careful as YB is both a politician and a Health Minister now. Research the issue and understand the matter fully," suggested the netizen.
"This kind of issue kills the morale of public medical staff. MOH (Health Ministry) staff are not stupid to reject treatment when lives are at stake. Understand the issue. If it's because of the existing law, then remove the formal dress code (from the law). This will prevent hospital staff from being 'sacrificed' for complying with (workplace) ethics."

Appealing to Dr Zaliha to look at the matter holistically, Hidayah Adnan agreed that while leniency is "absolutely necessary" during an emergency situation, this should not become a norm.
"The dress code is draw in accordance with the five principles of Rukun Negara, namely Kesopanan dan Kesusilaan. What is the point of creating a code of ethics if it is not implemented properly?" asked Hidayah.
"Matters like these shouldn't be resolved casually. In addition to holding the responsibility as a medical practitioner, the government doctor is also a civil servant."

Hilariously, netizen Brian L S Ong shared that nowadays many people – even among the elderly – have the tendency to wear skimpy clothing.
"But do keep the boundaries no matter where you are. It's not that you can immediately become a beauty queen if you dress like one," he suggested.
"Do prioritise modest clothing in public places regardless of race and ethnicity. You are welcome to wear as you wish at home. I used to always hear parents say 'Don't wear short clothing when dealing (with a chore) outside for mosquitoes will bite'. Short is OK but don't be overly short."

Aaron Kong suggested that MOH instructs hospital matrons to prepare "full surgical scrubs" for patients who dress indecently.
"Let them feel the heat that they are unable to feel by wearing over-exposed and eye-popping clothing," he noted.
"Even if the patient is Puiyi (referring to scantily dressed social media darling Siew Pui Yi), her way of dressing should not be condoned. Hippocratic oath should not be used to disregard our national culture and ethics. This YB (Dr Zaliha) needs a better PR admin." – Feb 16, 2023