REMEMBER the former communications and multimedia deputy minister Datuk Zahidi Zainul Abidin who became famous for the wrong reason at the height of the 2020–2021 movement control order (MCO) for his verbal attack on Veveonah Mosibin, the then 18-year-old Universiti Malaysia Sabah (UMS) student who had to stay atop a tree to take her online exam?
Well, Zahidi is back in the news after he told the local media that he is handing over his application to join PKR which coincidentally is helmed by Prime Minister Datuk Seri Anwar Ibrahim himself.
But, once again, he is getting backlash from unforgiving netizens who have not forgotten those grim episodes of former PM Tan Sri Muhyiddin Yassin's 17-month reign which entailed the declaration of an eight-month emergency period in between.
Upon learning of the decision of the former UMNO Padang Besar division head wanting to join PKR, netizen Adzman Kamaruddin (@adzman86) who is apparently a PKR supporter quickly tweeted: "No need, please @KEADILAN. This is like picking up a litter which is outside the bin".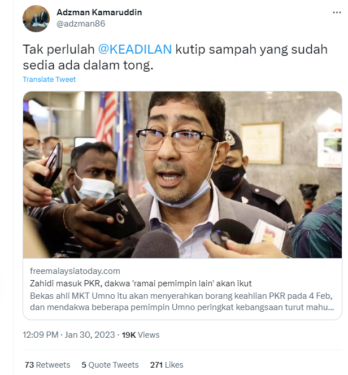 This a very severe assessment of a politician who did not get it easy after he chastised the poor Veveonah for telling the world she had no choice but to climb a tree to get internet access to do her take an exam.
When queried about the National Fiberisation and Connectivity Plan in the Dewan Negara Zahidi instead claimed that investigations showed that Veveonah "wasn't taking an exam but was simply a YouTuber and was not even a student".
When realising that he had erred in his Facebook statement, he attempted to retract it but was too late. The Internet was already knocking on his door with harsh comments.
Fast forward two years down the road, netizens are against him or his 'team' joining PKR or any member party within the Pakatan Harapan (PH) coalition.
"Please, bro … convey the message to top leaders … don't repeat the same mistakes during Bersatu's time when they brought the ex-UMNO members in," pleaded netizen Uncle Neo (@NeoMatrix_2k).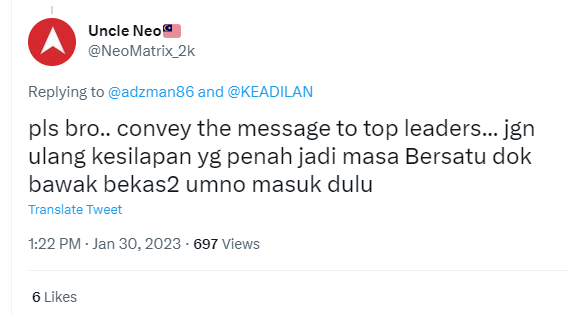 The netizen is referring to the 10 UMNO MPs who ditched the party, led by Larut MP Datuk Seri Hamzah Zainudin to join Bersatu which was then headed by ex-PM Tun Dr Mahathir Mohamad.
Netizen Abu Attasto (@adzdin) warned that "the treacherous' Zahidi can cause the downfall of the unity government and eventually the PH coalition.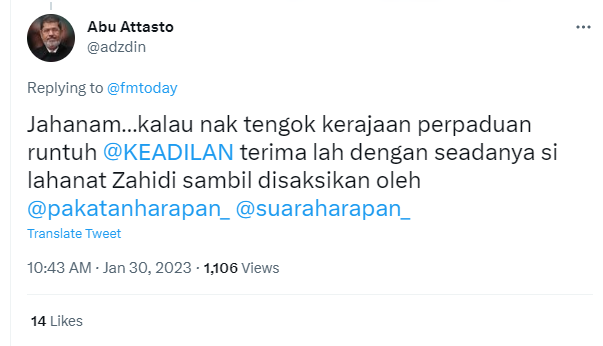 However, netizen Anti MACAI TAKSUB (@FirstPengundi) begged to differ, urging the original tweet poster not to call Zahidi with disparaging "political garbage" remark.
"Garbage? Do you mean Zahidi? If you mean him, it's inappropriate bro. You always appear as the emcee at PH's official ceremony & forum alongside big party figures. We are, after all, human beings." – Jan 30, 2023