BOTH praises and brickbats greeted the decision of MCA president Datuk Seri Wee Ka Siong as he announced his stepping down as the Johor Bahru MCA Division chairman by passing the baton to the party's newly elected chairman and former Youth chief Bong Seng Heng.
Prior to quitting his post yesterday (June 11), the Ayer Hitam MP and former transport minister reminisced that he had served the Johor Baru MCA division for 30 years – 15 years as its secretary and another 15 years as the division leader.
"I believe there is a need for a leadership transition at the divisional level to ensure continuity for the sake of the party's future well-being," he told reporters after voting in the election for the new Johor Bahru MCA leader.
The Melaka-born Wee, 55, further noted that the Johor Bahru MCA Division had produced many prolific leaders – not only at the party level – but also in the government such as former MCA president the late Tan Sri Lee San Choon and former Johor MCA chairman the late Datuk Freddie Long.
Reacting to Wee's decision, netizen Ong Eu Jin (@ongeujin) opined that the former MCA Youth chief should be grooming new party leaders instead of retreating.
"When the going gets tough, you bow away. Now is the time to mould a new MCA. When the respect has withered away, you must bring it back. History doesn't remember failures," reminded the netizen in a response to Wee's tweet about his stepping down as the Johor Bahru MCA Division head.
George Shek was more cynical as he teased Wee that his decision could be prompted by the fact that he knew the Chinese community is no longer supporting MCA. "The damage is done and only in your next life can you redeem your credibility … best that you do some charity work to cleanse your karma," he suggested in a Facebook feedback.

Rakesh S Maran (@rakeshsmaran) wanted Wee to enlighten Malaysians about MCA's contributions to the people while Oppa_Won (@dasmonyong) described Wee's move as "long overdue".
"This is a good step because you didn't do your job well when you're a minister … you're quiet when you should speak up … then all of a sudden, you harp on the egg issue," added netizen errybagley (@azwanaziz8).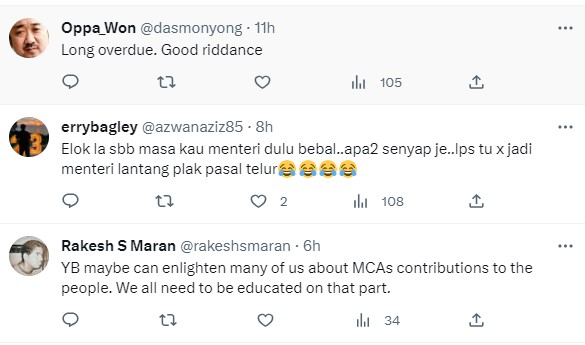 Netizen Iceman2762 (@kusanvinvin) wondered if Wee would be "joining the dark side" while MalayGuy (@MatMalayGuy) rubbed it in with "hoping to see you with PN (Perikatan Nasional) soon".

Perhaps Mohamad Akbal Musa made the darndest remark with his observation that both the Barisan Nasional (BN) and MCA are at their lowest ebb.
"How can there be highs and lows (in Wee's political career)? Show your prowess as the true party president by enabling the party to contest in the Chinese majority areas and for MCA candidates to emerge victorious with many seats. Then we shall see the high tide." – June 12, 2023