A MISPLACED good intention has put Local Government and Development Minister Nga Kor Ming in a hot spot among netizens recently.
Taking a break from promoting the popular RM5 "Menu Rahmah" which typically takes the form of nasi campur (economy rice), the Teluk Intan MP has tweeted a sales gimmick by Chatime Malaysia that rides on the "Menu Rahmah" trend, only to be snubbed in the cyberspace for promoting "Menu Rosmah" instead.
"YB, this is not Menu Rahmah. This is more like Menu Rosmah. You've tagged wrongly," noted Twitter user @khai_mmu, while netizen @lfc_eddie wonders if "our ministers now are influencers for product placement".


User @TKohHock also took a dig at the DAP Perak chairman, describing Chatime's sales gimmick as "only an exploitation".
"Menu Rahmah focuses on balanced food for the B40 group – rice (carbs), protein and vegetables. But this sweet tasting water alone costs up to RM5. Which B40 group can afford to buy this?"
The view was seconded by user @KrishMArumugam who also tagged Domestic Trade and Living Costs Minister Datuk Seri Salahuddin Ayub and Health Minister Dr Zaliha Mustafa over the pricey and unhealthy offering.
"Look at your colleague and kindly advise Cabinet ministers to promote healthy drinks! Menu #Ramah can be served with healthy protein balanced diet food. Rice with fish and ulam (salad leaves) is healthier!"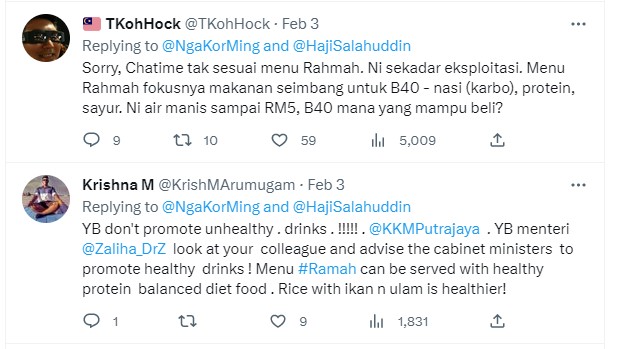 Netizen @jacobt_jr reminded Nga to be "on guard that your passion to promote Menu Rahmah is not misconstrued as using youtr position to influence or being bias towards selected items or outlets".
While correcting Nga that he has wrongly spelt Menu Rahmah as "Menu Rahman", user @camancher2012 expressed hope that Menu Rahmah should be confined to "staple food item" so as to prevent "the private sector from cashing in with RM5 beverages, ice-cream, bread, etc in the guise of Menu Rahmah".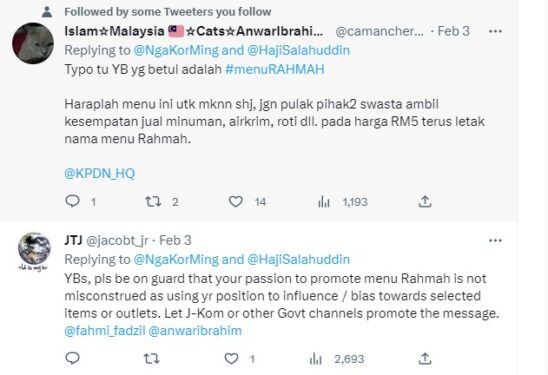 Netizen R. Ryan (@rexaczs) struck the chord by highlighting that "boba (bubble) tea is not a daily staple food while its RM5 price tag is still expensive". – Feb 8, 2023