PAS wants Local Government Development Minister Nga Kor Ming to publicly apologise for his "misconduct without integrity" of spending the ministry's money to indirectly promote DAP and the Pakatan Harapan (PH) collation.
This is because the recent action of the National DAP vice-chairman has set both the benchmark and precedence that ministers from the Madani government can freely use money administered by their ministries to promote their political parties, according to National PAS information department director-general Zurk Ahmad.
"What hurts our hearts more as Malaysians is when we have a Prime Minister (PM) who addresses the issue of governance every day but does not rebuke the dishonourable and disrespectful actions of this DAP minister," he hit out in a Facebook statement.
"Is PMX really so pretentious and hypocritical when talking about governance in every of his ceramah whether in the morning, afternoon, evening and night? Or worse still, by consenting the action of the DAP minister who used his ministry's funds for the benefit of DAP's political mileage?"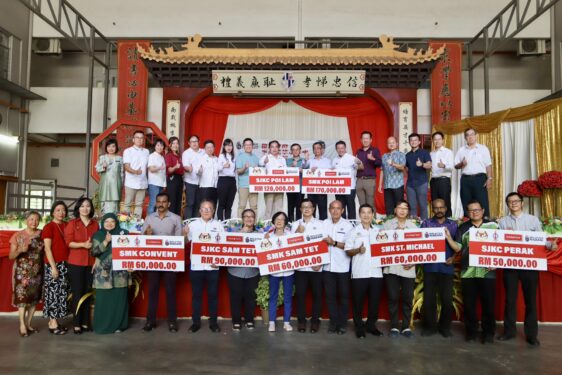 Added Zurk: "This state of kakistocracy depicts the misfortune of Malaysians today. It turns out that they are not good at governing this country let alone to ensure that the administration of this country is in a transparent and clean state."
Nga who is also the Teluk Intan MP has defended the presence of the DAP logos on mock cheques for school donations which have garnered criticism from several leaders recently.
"No issue. What's most important is that the schools receive the donation," he told reporters after officiating an event at the Local Government Development Ministry in Putrajaya on Wednesday (Aug 23).
However, the "no issue" response by Nga has been described by Zurk as a mark of arrogance which "confirmed the claims of the people out there that this DAP leader always thinks he is right, cannot be criticised and finds it difficult to accept criticism from others".
"The DAP vice-chairman should remember that being a minister does not make him immune and can do immoral things at will behind the authority that a minister possesses," reminded the PAS man.
"YB Nga should remember that his position is only temporary and comes from the people's vote. He should reflect, take responsibility and correct his past mistake instead of denying them arrogantly!" – Aug 26, 2023