FORMER premier and Perikatan Nasional (PN) chairman Tan Sri Muhyiddin Yassin has instructed his lawyer to proceed with defamation suit against Prime Minister (PM) Datuk Seri Anwar Ibrahim over the Federal Land Development Authority (FELDA) settlers' debt waiver issue.
This follows the failure of Anwar who is also the Finance Minister to submit an unconditional and open apology to him within 24 hours as contained in his lawyer's demand letter.
Having revealed part of the government's documents which showed that he had signed off RM990 mil debt waiver on June 27 this year, Anwar had wanted Muhyiddin to apologise for the slander thrown at him.
"I submit part of the Assignment for Financial Service Reserve Account (FSRA) agreement document related to the government guarantee to FELDA which I have signed," Anwar had pointed out in a statement.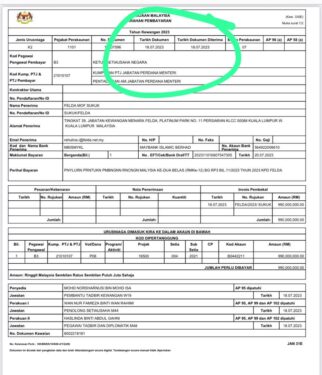 However, Muhyiddin disputed the evidence furnished by Anwar as "not about the settlement of FELDA settlers' debt" but instead that of a government-backed sukuk (Islamic bond).
"I have explained many times before that the document that Anwar signed was about the sukuk and not waiver of the FELDA settlers' debt. The disclosure of the document proved that I was telling the truth. The one who lied and slandered me was Anwar," claimed the Bersatu president in a statement posted on his Facebook page.
"The Finance Ministry's media statement (see above) also confirmed that it is about the government guarantee of RM9.9 bil and not the RM8.3 bil FELDA settlers' debt waiver which I have already completed in 2021."
Muhyiddin further took a swipe at Anwar by claiming that his revelation of sukuk documents is testament that the latter did not understand the content of the documents he signed as a Finance Minister.
"This is dangerous. I don't know what other documents or agreements he signed in his capacity as PM and Finance Minister that he did not understand or has no clue of their content," the Pagoh MP hit out.
"Clearly Anwar is not qualified (incompetent) to remain as PM. The longer Malaysia is governed by Madanon Anwar Ibrahim's government, the greater the harm is for the people."
For the record, Muhyiddin's former aide Datuk Dr Marzuki Mohamad had soon after Anwar's claim that he has signed off the debt waiver disputed the 'proof of payment' provided by Anwar as evidence.
"Just one look, and I already knew that the document is not an agreement for settling the FELDA settlers' debts but rather an agreement about government-guaranteed bonds issued in stages," he clarified on his Facebook page.
"To avoid doubts about the Cabinet's decision on October 14, 2020 that it has waived the FELDA settlers' debt, it would be best for the government to declassify minutes of the Cabinet meeting for the public to see." – July 21, 2023
Main pic credit: Alhijrah Online