PAS does not engage in Machiavellian politics in that it is willing to do everything, including things forbidden or prohibited by religion or even indulge in criminal action to gain or strengthen power.
Perak State PAS commissioner Razman Zakaria affirmed this in response to Amanah president Datuk Seri Mohamad Sabu's accusation that PAS' political fatwas are always changing and called on PAS members and supporters not to be afraid to make changes on their votes.
According to the Islamist party leader renowned for his controversial history marked by numerous libellous statements that have landed him in court, PAS was willing to abandon its alliance with DAP at a time when it was already on the brink of power should both parties retain their partnership.
"No doubt PAS had been an ally of DAP, it was unwilling to be a blind follower when DAP asked PAS to agree on matters that PAS couldn't agree to as this has been PAS's political principle,"  Razman who is also the Perak state Opposition leader was cited by HarakahDaily as saying.
In this regard, he revealed that DAP in particular had twice left its alliance with PAS, namely under the Barisan Alternatif (BA) and Pakatan Rakyat (PR) coalitions when PAS was unable to its meet its demands.
Among the sore points were the Islamic State Document, the Syariah Court (Private) Bill (Criminal Jurisdiction) and other matters related to Islamic and Malay interests as enshrined in the Federal Constitution.
Razman also took a swipe at DAP for having sponsored certain leaders to take over PAS in its quest to make the latter a platform to gain Malay votes but such mischief was a flop, resulting in certain PAS leaders leaving the party to eventually form Amanah (including Mohamad Sabu).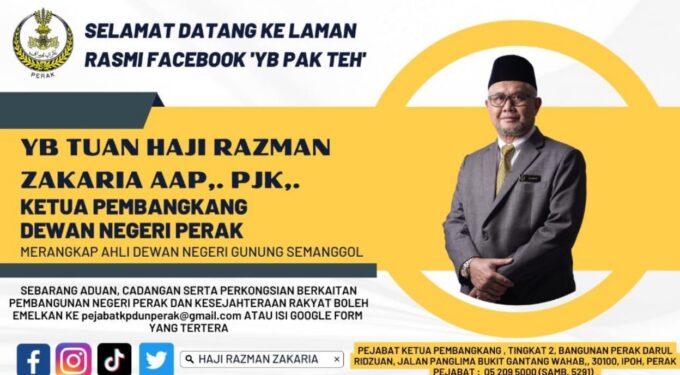 Throughout its political journey since its establishment until now, Razman claimed that PAS has never changed the party's policy except for a political approach that is developed based on the needs or current situation but within the framework permitted by Shariah."
"PAS even invited UMNO to be part of the Muafakat Nasional coalition on the condition that there is no court cluster. PAS based its consideration on lesser harm (but the alliance has become theoretically 'dead' with the formation of the unity government spearheaded by Pakatan Harapan [PH] and Barisan Nasional [BN])," he pointed out.
Razman who is also the Gunung Semanggol assemblyman, further insisted that stability in the country can only be realised when it is ruled by the majority. He attributed the current instability to the PH-BN coalition "being influenced by DAP's wishes". – June 27, 2023