NEWS flow from UMNO's top brass seem to suggest a mixed signal regarding the position of poster boy caretaker Prime Minister Datuk Seri Ismail Sabri Yaakob post 15th General Election (GE15).
Barisan Nasional (BN) chairman Datuk Seri Dr Ahmad Zahid Hamidi has been adamant that the coalition is firm about Ismail Sabri being retained as PM if the coalition succeeds in getting to administer from Putrajaya.
Zahid who is also the UMNO president said the question of whether Ismail Sabri would be BN's candidate for the post of PM did not arise but this was being played up by the opposition.
In echoing Zahid, UMNO vice-president Datuk Seri Mohamed Khaled Nordin further dismissed claims that Zahid himself will helm the country as the new PM should UMNO/BN return to power as "erroneous and without basis".
The former Johor menteri besar also blamed critics for desperately resorting to false accusations as they are bereft of ideas and have no other issues to play up.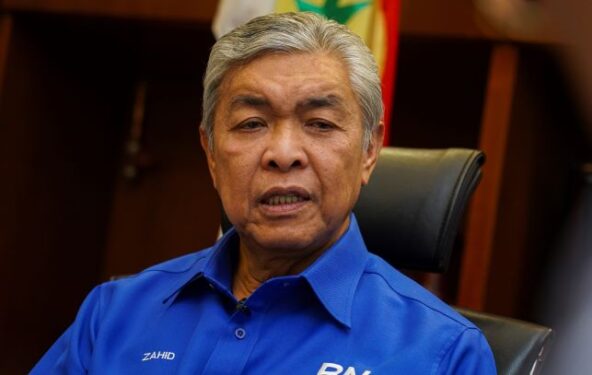 Both Zahid and Khaled's feedback came amid a remark by Opposition leader Datuk Seri Anwar Ibrahim on Friday (Oct 14) night that Zahid will be the PM should BN win the election though the Port Dickson MP did not elaborate the basis of his opinion.
Interestingly, UMNO vice-president Datuk Seri Mahdzir Khalid said the party's supreme council has never issued any directive for its divisions to move a motion of support for the candidacy of Ismail Sabri as Prime Minister after the GE15 at their respective meetings.
On the contrary, the Padang Terap MP said most of the party's divisions carried the motion on their own initiative.
"There was no instruction, it is up to the respective UMNO divisions. So, on Saturday (Oct 15), most of the UMNO divisions held their meetings and tabled several motions, one of them was for Ismail Sabri to become the 'poster boy' (for GE15) and the candidate for the PM's post after the election."
Nevertheless, Mahdzir contended that such motion would not spark "conflict" with Zahid considering that the latter even the Bera MP as a PM candidate.
Whether this is a done deal or otherwise is left to be seen judging from Zahid's 'gung-ho-ness' for an early GE15 – and that the Yang di-Pertuan Agong has granted his wish – one cannot be faulted for assuming that Zahid is himself eyeing the coveted position especially when that would further safeguard him from what he claimed to be "selective prosecution".
Henceforth, Ismail Sabri who has been accused by both Malaysians at large as well as people within UMNO for "selling his soul to the devil" must accept the new reality that he is now beholden to UMNO for the rest of his political career.
Moreover, he also has to accept the harsh reality that his track record has been 'smeared' by having overtaken his predecessor Tan Sri Muhyiddin Yassin by three months to be Malaysia's shortest reigning PM (14 months prior to the dissolution of Parliament on Oct 10 compared to Muhyiddin's 17 months when he stepped down after having lost majority support in Parliament).
If only he can turn back the clock, he shouldn't have fulfilled the role of UMNO's 'poster boy' in the first place for he should have trusted his own instinct – or back bone for the matter – that it was his prerogative as the PM to advise the King accordingly.
Even if he deems that going for the broke by not adhering to the wishes of his so-called political masters (UMNO warlords especially those from the court cluster) would backfire on his political career, at the very least Malaysians will remember him for his guts.
Now amid the fluidity of local political development leading to GE15, Ismail Sabri must realise that he cannot treat any statement coming from UMNO or any political party for the matter as the gospel truth. – Oct 17, 2022
Main photo credit: Bernama