WHENEVER there is a proposed concert – whether by foreign or local acts – there will be much hue and cry from the conservative elements.
Let's face it, theirs have become a deafening cry, exhorting the faithful to resist the evil "liberal" types who are out to spread a pro-LGBTQ+ agenda while undermining the Islamic values that underpin much of Malaysian society.
Electoral results showing PAS gaining ground in Pakatan Harapan (PH) strongholds have been used as an indicator of a 'green wave' denoting growing conservatism among the electorate who wish to see strict implementation of Syariah law as espoused by the party.
One would have thought that strict adherence to its own guidelines for public performances would be de rigour in its stronghold state of Kelantan where PAS has governed uninterrupted since 1990.
This is where a woman shopkeeper was recently fined for having the audacity to don shorts in her own business premises! Surely, rules pertaining to concerts would be followed to the letter to set a shining example for the rest to follow.
Apparently not so as the Jom Heboh concert held on Saturday (Sept 9) in Tunjong, Kota Bahru clearly demonstrated.
The women's wing of the Kelantan PKR chapter has called out the state administration over allegedly violation of the state's entertainment enactment.
In a statement, its chief Nor Azmiza Mamat claimed that concertgoers were not segregated according to gender during the concert finale. As reported by Malaysikini, she said that this contradicts assurances made by state government leaders that the enactment will be respected.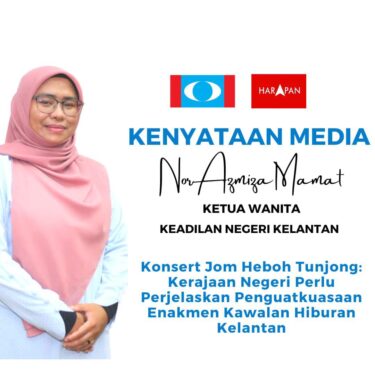 "Based on viral photos and videos, it was clear that seats for male and female audiences were not segregated. This raises the question of enforcement of the state's Entertainment Control Enactment 1998, as it had violated the guidelines set by the state government."
Double standards
Nor Azmiza pointed out that state EXCO member Mohd Asri Mat Daud who is in-charge of Islamic affairs had recently said that the state would ensure the event organiser will abide by the enactment.
She also expressed disappointment over what had happened as Kelantan Deputy Menteri Besar Datuk Dr Mohamed Fadzli Hassan provided similar assurance.
"Clearly what they said before was contradictory to what happened during the concert. Thus, we call the state government to explain whether enactment was enforced during the concert."
This incident clearly highlights that while many Kelantanese may have voted for PAS, it does not mean that they are ultra-conservatives who are insistent on a narrow and dogmatic view on social interactions and public performances.
Going for a concert and standing next to a member of the opposite sex is par for the course. Just as it was completely normal for the shopkeeper to wear shorts as she has probably been doing for years to no one's notice till overzealous authority figures decided to turn it into a political hot potato.
Malaysians must just learn to 'live and let live' and not be hoodwinked by the faux outrage of certain political factions who are hell bent on creating a 'Us vs Them' narrative.
As the concert in Kota Bahru clearly demonstrates, people just want to get on with their lives unobstructed by over-zealous religious dicta.
There was no untoward incidents or a meltdown of moral values. People came, had a good time and went home. It is time Malaysians said enough is enough and turn their backs on such hypocrisy. – Sept 12, 2023