AS bizarre as it sounds, 7CAFe by 7-Eleven has teamed up with Lingham's to provide an all-new chilli sauce and chocolate-flavoured Flaming Choco soft serve.  
Available at all 7CAFes for a limited time only, the sweet-sour-spicy soft serve will be a treat for those who love some spiciness with their desserts and adventurous food connoisseurs. 
Lingham's brand is no stranger to many, having been founded in Penang way back in 1908.
Now its rich heritage is being complemented with delicious chocolate – the 7CAFe soft serve flavour of the month. 
For those burning with curiosity about how this concoction tastes, 7-Eleven gives a hint: the contrast of the sweet chocolate and Lingham's spicy flavours is an offering that will simply blow your mind.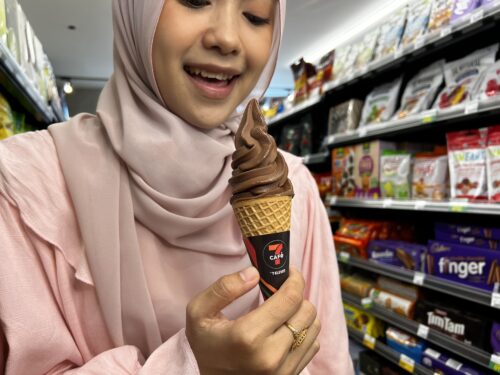 They also included a warning – once you stop eating it and the cold sensation wears off, the spiciness will kick in! So, best to have a glass of water or yoghurt on standby to cool off your tongue.  
Keen on experiencing for yourself the oddity that is Flaming Choco? Visit your nearest 7CAFe (full listing here) and try it out for yourself (at only RM2.90 per soft serve).
Meanwhile, in conjunction with Merdeka Day and Malaysia Day, 7CAFe also recently introduced its all-new local-infused menu to delight everyone's taste buds. 
The new ready-to-go meals are the Nasi Lemak "Level Up" with Kam Heong Chicken and pachadi (RM10.90) and Char Kuey Teow with prawns and egg (RM7.90):
New desserts and lattes have been introduced too: Sambal Chicky Croffle (RM6.90), Pandan Gula Melaka Swiss Roll (RM6.90), Hot Gula Melaka Jelly Latte (RM4.90), Iced Gula Melaka Jelly Latte (RM6.90), Hot Pandan Latte (RM4.90) and Iced Pandan Latte (RM6.90).  
A new sambal petai pau (RM2.90) is another new addition to 7CAFe's menu, as is the Mango Tango (RM6.90) soft serve. 
Don't forget these new, local-infused foods and beverages when you're celebrating unity and patriotism during this festive week. – Sept 16, 2022  
All photos are credited to 7-Eleven