SUGGESTIONS to prevent a challenge to the UMNO presidency, according to former UMNO Youth chief Khairy Jamaluddin are "madness."
The former Rembau MP penned on his Instagram story earlier today that doing so would be detrimental to democracy.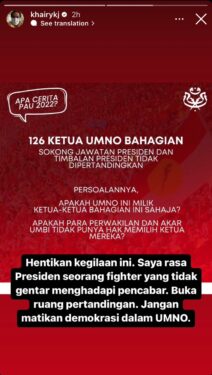 "Stop this madness. I believe the president is a fighter and will not back down from facing a challenger.
"There should be a contest. Do not kill democracy in UMNO."
Moreover, Khairy was responding to news reports that a group of UMNO division chiefs had gathered last night (Jan 11) to express their view that the top two positions should go unchallenged during the upcoming party election.
Nominations have yet to begin, while as of late, only Khairy has publicly indicated an interest in challenging Datuk Seri Ahmad Zahid Hamidi.
In 2018, Zahid defeated Khairy and Tan Sri Tengku Razaleigh Hamzah in the presidential election.
Furthermore, the party postponed their party election twice, first during COVID-19 and then during the 15th General Election.
The upcoming party election, which must be held before May 19, will probably serve as a barometer to determine whether the grassroots of the party approve of the decision made by the current leadership to collaborate with Pakatan Harapan, its archrival. – Jan 12, 2023
Main photo credit: Utusan Malaysia