A DAP assemblyman has trained his guns on a PAS MP for assuming the role of a "moral police" in regards to the promotion of alcoholic beverages at Sunway Carnival Mall in Penang.
In a statement earlier today, Pengkalan Kota assemblyman Daniel Gooi opined that it is not the role of an MP or elected representative to be moral police and take action on activities that they believe to be inappropriate.
"It is clear the promotion was in conjunction with the upcoming Chinese New Year celebration. It is aimed at non-Muslims and carried out in accordance with the law," Gooi noted.
He was referring to a TikTok video of Permatang Pauh MP Muhammad Fawwaz Muhammad Jan, who alongside several PAS service centre officers, had met up with the mall's management to convey the discomfort of Muslim shoppers for the ongoing Carlsberg event at the main concourse of the mall.
Gooi further noted that apart from deviating from his duties as an MP, Fawwaz's actions could pose a threat to multiracial Penang.
"If he can act like an enforcement officer over the promotion of alcohol, will he also take similar action against the various cultural and religious activities practiced in Penang?" he questioned.
Urging the mall management to not bow to pressure from "narrow-minded" politicians since the promotion did not breach regulations, the DAP representative sarcastically thanked the PAS lawmaker for "helping" to promote the event.
"Thank you YB for the video and for informing everyone that there is a promotion for alcoholic beverages at the mall," he added.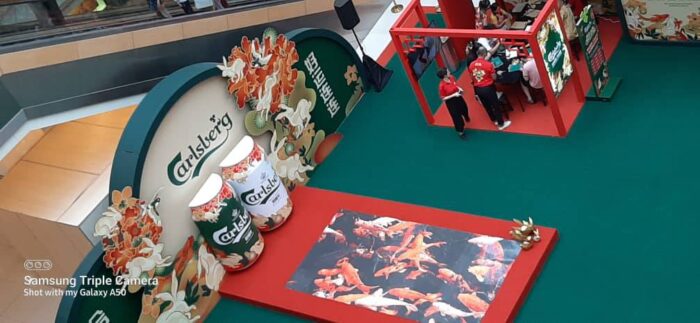 Yesterday, Fawwaz – who is also the Penang state and Permatang Pauh division PAS Youth chief – said in a statement that he "firmly objected to any sale or promotion of alcohol on a large scale at the main concourse of Sunway Carnival Mall".
Following his meeting, he said the event organisers had welcomed the protest and will "act to organise it in a more private manner during this week".
He also expressed hopes that such a situation does not recur to safeguard the sensitivities of Muslims as well as the surrounding community which is predominantly Muslim in Seberang Jaya. – Jan 10, 2023