LIKE-MINDED netizens from various political divides have generally congratulated retired DAP supremo Lim Kit Siang for being the first full-fledge DAP leader to be conferred the honorific title of "Tan Sri" in conjunction with the Yang di-Pertuan Agong Sultan Abdullah Sultan Ahmad Shah's 64th birthday celebrations today.
With the conferment, Malaysia's longest-serving opposition in leader whose tenure spanned a total of 29 years on three separate occasions has joined the rank of the late Tan Sri Dr Tan Chee Khoon (1919-1996)" as the first opposition leader conferred the "Tan Sri" title.
Bestowed under the awards of Panglima Mangku Negara (PMN) and Panglima Setia Mahkota (PSM), the "Tan Sri" is the second-highest federal title after "Tun".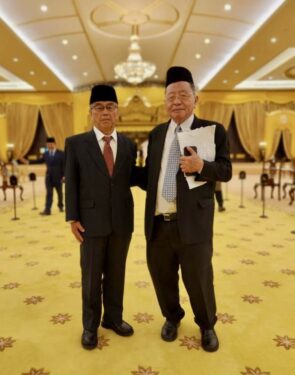 Insofar as DAP is concerned, the 82-year-old Batu Pahat (Johor)-born veteran lawmaker could well be the second recipient from the party after former Bukit Bintang MP-turned-social activist Tan Sri Lee Lam Thye who was bestowed with the PSM accolade in 2002 (Editor's Note: Lee quit politics just a few weeks shy of the 1990 General Election).
"The most prominent Opposition leader. Deserves it," hailed PoliticArif (@ArifTruely) in a reaction to a Malaysiakini tweet of the veteran lawmaker receiving the "Tan Sri" title later today.
Seconding PoliticArif, BigJoe470 (@BigJoe470): added: "He very much deserves this title compared to one gaji buta (getting salary for not doing anything) special envoy and pretty sure Uncle Lim only agreed to this as a high respect to the King for he is not known for someone going after positions and titles. Congratulations Uncle."
Congratulating Kit Siang, Zawati Talib (@ZawatiT) remarked: "As a Malaysian and a Malay, I agree that he deserves it. Congratulations, Tan Sri Lim Kit Siang" while amardelon (@amardelon) opined:
"This man has fought so hard and so long to keep the government in check and balance. He deserves this title if it's true. Got some other 'Tan Sri' who stole and lied, should take it back."

Deeming the former Iskandar Puteri MP as a "long-suffering patriot of the beloved country", PierreRoyce (@PierreRoyce1) also agreed that the title is "totally well-deserved" while BisonSpectrum (@bisonspectrum) recalled Kit Siang as "a true legend who even made (Prime Minister Datuk Seri Anwar Ibrahim) who was (once) against him a PM".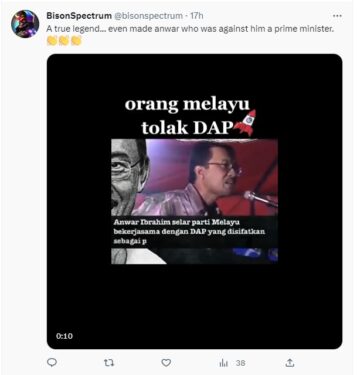 Netizen Ken (@Kenken0606) paid tribute to Kit Siang for even the Yang di-Pertuan Agong recognises his contribution which goes to show that the accusation of him being anti-Islam is "a wrong statement".
Burt Berkarat (@dermainejupri) summed up best with his observation: "Is there anyone making a fuss of Uncle Lim receiving an award from the Agong? If he refuses, then someone will say that he doesn't respect the Malay King and ask Uncle Lim to just return to China". – June 5, 2023