DAP chairman Lim Guan Eng's harmless congratulatory wishes for the UK's Conservative Party leader Rishi Sunak, who is set to become the country's next prime minister, has been slammed by politicians and netizens alike on social media.
Earlier today, Lim, commenting on a Reuters article on the matter, said Sunak's slated appointment, which would make him the first British prime minister of Indian origin, was a "historical moment".
"The best Deepavali gift to Hindus all over the world," he added in a tweet. "May the Festival of Lights shine justice, goodness, competence and prosperity everywhere."
However, Parti Sosialis Malaysia (PSM) secretary-general A. Sivarajan pointed out that Sunak – whose combined £730 mil fortune with his wife and one of the UK's wealthiest women Akshata Murty is roughly double the estimated £300 mil to £350 mil that King Charles III is worth – is considered a "gift, only to the British elite".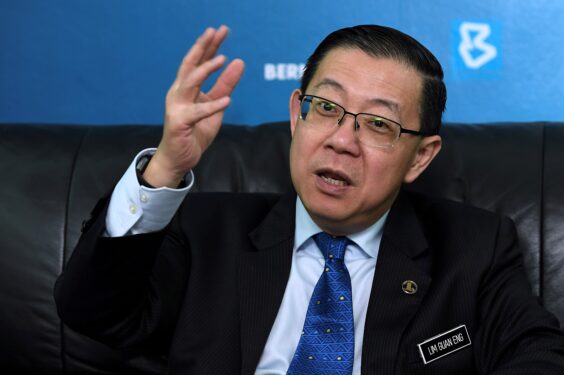 "Sunak is part of the top 20 income group (T20) of British society," Sivarajan tweeted in response to Lim. "Him being of Indian origin isn't a cause for celebration."
He added: "Haven't we learned that having politicians (T20) of your skin colour does not, in any way, associate nor indicate an understanding of the challenges of the bottom 40 income group (B40) Indians?"
Similarly, PSM deputy chairman S. Arulchelvan tweeted: "I don't understand why Malaysian Indians get so excited if billionaire Rishi Sunak becomes PM.
"Same before with (US vice-president) Kamala Harris; our lives aren't going to change here because of them."
Netizens on Twitter, like Dashran Yohan, agreed with him: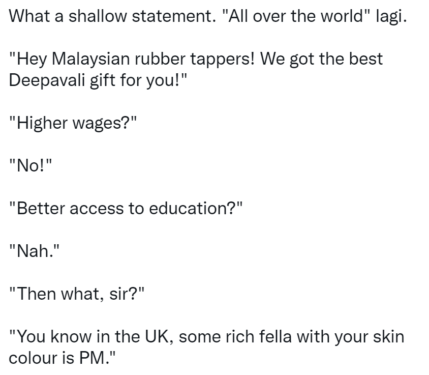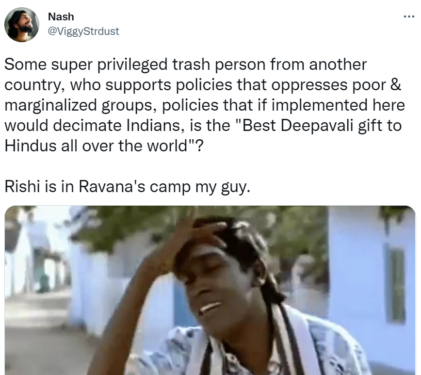 Some on social media pointed out that no comparisons can be drawn for the Malaysian as the British have a "free and fair system" where "all its citizens have equal rights".
"National Apartheid Act"
"Unlike Malaysia with its abhorrent, immoral and degenerate National Apartheid Act (National Economic Policy or NEP) that relegates the minorities to a second-class status; there is no comparison."
Others were more hard-hitting in their criticism of Sunak, with one saying the Indian-origin people in the UK should reject him for the same reason DAP asks the Malays to reject UMNO: alleged corruption.
"People in the UK don't want a billionaire, unelected PM representing them. Same reason we fought former prime minister Datuk Seri Najib Razak; corruption exists in the UK too."
A few pointed out that Sunak was the "best tax evasion person ever" – likely referring to news that his wife has potentially avoided up to £20 mil in UK tax by being non-domiciled and pays £30,000 a year to keep the status – and called Lim out for being "out of touch" with reality and sentiments on the ground:



"Why do you guys love punching yourselves in the face so much?" asked another, ahead of the Nov 19 federal polls where the DAP hopes to wrest back control of Putrajaya after it lost power during the Sheraton Move of 2020.
Others poked fun at Lim for supporting an "unelected" prime minister and reminded the party: "Don't complain when it happens to you".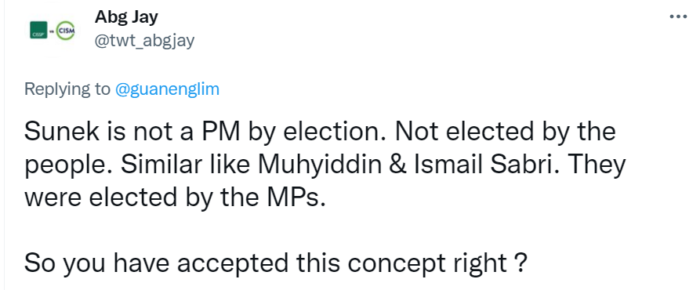 At press time, Lim has not responded to any of the criticism he has received over his tweet. – Oct 25, 2022
Main photo credit: ISKCON News