NOVA MSC Bhd, a leading provider of software development and engineering solutions, has established a joint venture company (JV Co) with Theta Edge Bhd, a member of the Tabung Haji Group, to provide state-of-the-art e-government solutions and a suite of IT services including system integration, consultancy and infrastructure system services in Malaysia.
This strategic partnership will represent a significant milestone in Malaysia's digital transformation evolution. By leveraging on the strength of both companies, the partnership aims to address key challenges faced by government agencies and businesses alike by paving the way for a seamless transition to a modern and technologically advanced ecosystem.
In particular, the collaboration will unleash the transformative potential of artificial intelligence (AI), digital transformation and big data, especially within the realms of the construction industry and e-government services.
This JV will set new standards in efficiency accuracy and responsiveness by focusing on innovative practices such as automated building information modelling (BIM) in design validation, streamlined governmental processes and integrated digital platforms.
Aside from that, the implementation of automated processes and the integration of integrated digital delivery (IDD) will promote improved efficiency and innovation in e-government solutions, thus resulting in quicker responses and increased transparency.
This immense transformation will require commitment and investment from technology players with a strong track record. According to a filing with Bursa Malaysia, the JV Co will be backed by a RM15 mil capital investment commitment.
Theta which owns a majority stake of the JV Co with a 60% equity will eventually subscribe for 60 million shares for RM9 mil in cash while Nova MSC will own a 40% stake in the JV Co via the transfer of its intellectual property rights (IPR) for the Malaysia region to the JV Co.
The JV is in the midst of finalising its strategic business plan to capture the opportunities in the market.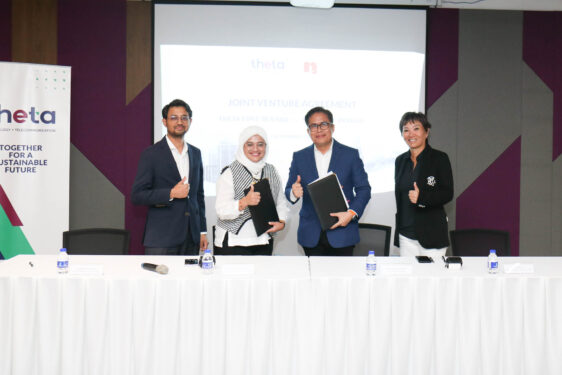 "This JV is more than just a business endeavour; it's a shared vision of innovation and excellence. Combining our technological expertise with Theta's vast experience in the ICT sector, we aim to re-define e-government and IT solutions in Malaysia," commented Nova MSC's executive director Nazerollnizam Kasim.
"This partnership is a testament to our commitment to delivering unparalleled value to our clients and stakeholders."
Echoing similar sentiment, Theta Edge's group CEO Datuk Nuraslina Zainal Abidin reckoned that joining forces with Nova MSC is a strategic move that aligns perfectly with the group's growth aspirations.
"This JV is an exciting amalgamation of two industry leaders aiming to elevate IT solutions in Malaysia. We are confident that our combined strengths will bring forward a new era of innovation, thus ensuring our clients benefit from the best of both worlds," she added.
At the close of today's market trading, Nova MSC was unchanged at 10.5 sen with 565,800 shares traded, thus valuing the company at RM125 mil while Theta Edge was down 1.5 sen or 2.38% to 61.5 sen with 328,500 shares exchanged hands, hence giving it a market capitalisation of RM73 mil. – Sept 5, 2023