By Jason Yeo
THE shortage of funds being faced by Perikatan Nasional's (PN) candidate ahead of the six state elections on Aug 12 is a vindication of UMNO's persecution which included the freeze on the party's account previously.
UMNO Supreme Council member Datuk Nur Jazlan Mohamed further attributed the funding problems faced by PN at the moment to the political sins of its component parties that wanted to destroy UMNO.
Nur Jazlan claimed that Bersatu president Tan Sri Muhyiddin Yassin and former Pejuang president Tun Dr Mahathir Mohamad had previously wanted to destroy UMNO with various allegations and selective investigations that ultimately backfired on them.
According to the former Pulai MP, Bersatu's previous acts are karma to Muhyiddin and the party in question which previously persecuted UMNO.
"UMNO's account was also frozen as a result of the Malaysian Anti-Corruption Commission's (MACC) investigation into the involvement of its president (now incarcerated former premier Datuk Seri Najib Razak) in the 1Malaysia Development Bhd (1MDB) case but UMNO had nothing to do with the case in the end," penned Nur Jazlan who is also the Pulai UMNO division chief on his Facebook page.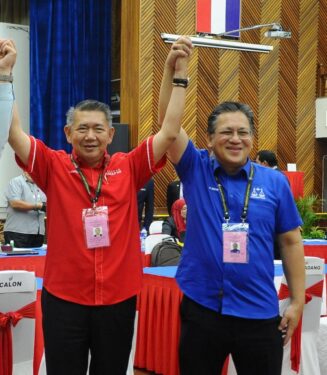 "UMNO had to fight and face several by-elections with empty pockets. Nevertheless, UMNO leaders and its members didn't even complain. We persevered in the face of adversity and eventually won five of the eight by-elections held from 2019 to 2020."
Added the Dewan Negara deputy president: "Bersatu does not even have a campaign team; instead, they rely solely on PAS election machinery to do campaign work for PN candidates that include Bersatu candidates."
On Monday (July 31), PN acknowledged financial constraints as one of the main challenges faced by its 56 candidates contesting in Selangor polls.
However, PAS Selangor secretary Roslan Shahir Mohd Shahir said financial limitations have not dampened the coalition's spirit to continue their struggle to win over Selangor.
"Bersatu's accounts have been frozen by MACC for an uncertain period and we are operating within limited budgets," Roslan was quoted as saying by Sinar Daily on Monday (July 31).
On April, MACC has initiated seizure against two Bersatu bank accounts after having submitted an order to the banks involved in accordance with Section 50 of the Anti-Money Laundering, Anti-Terrorism Financing and Proceeds of Unlawful Activities Act 2001 (AMLATFPUAA 2001).
Recall that Muhyiddin who is also the PN chairman has claimed trial to four counts of abuse of power in relation to the JanaWibawa programme and two counts of money laundering amounting to RM195 mil. – Aug 2, 2023
Main pic credit: Facebook/Datuk Nur Jazlan Mohamed