Editor's Note: UMNO has dismissed a report claiming that its president Datuk Seri Ahmad Zahid Hamidi will not defend his Bagan Datuk parliamentary seat in the 15th General Election (GE15). UMNO executive secretary Datuk Mohd Sumali Reduan has described the report as baseless. "I have not heard of this and there is no official statement from the UMNO president, I classify this as political propaganda," he was quoted as saying by UMNO Online.
THIS may sound as a joke but the mastermind behind an early 15th General Election (GE15) has reportedly told the Sinar Daily news portal that he will not be defending the seat that he has held for the past five terms.
As such, UMNO President Datuk Seri Ahmad Zahid Hamidi is likely to let his daughter Datuk Nurulhidayah or his right-hand man succeed him by contesting his Bagan Datuk parliamentary seat.
"The 69-year old leader decided on this major decision as a sacrifice to ensure it will not be utilised as campaign materials by his (UMNO) enemies in the upcoming polls on Nov 19," reported Sinar Daily.
"This move also corroborates the continuous support pledged by various UMNO divisions for Datuk Seri Ismail Sabri Yaakob as the Prime Minister candidate if Barisan Nasional (BN) wins."
Unlike Nurul Izzah, the Permatang Pauh MP and daughter of Opposition leader Datuk Seri Anwar Ibrahim who possesses a pleasant demeanour and is 'politically talented' judging from her oratory skill and the way she carries herself in public, the same cannot be said of Nurulhidayah who has seemingly courted controversies on numerous occasions.
As recent as June this year, social/political critic Mariam Mokhtar has labelled Nurulhidayah as a disgrace to women following her atrocious statement that "women are not born to be leaders".
"The latest person to contract foot-in-mouth disease is Nurulhidayah Ahmad Zahid, the eldest daughter of UMNO president Ahmad Zahid Hamidi," lambasted the self-proclaimed admiral-general of the Green Bean Army and president of the Perak Liberation Organisation (PLO) in a comment piece published by Malaysiakini on June 3.
"You couldn't make this up! How did someone who is as widely travelled as her, who has more money than most of us, and who is supposedly highly educated come up with such a daft statement like that?"
Added Mariam: "She is alleged to be a multimillionaire but despite her millions, money cannot buy common sense. More importantly, females can also be the world's worst misogynists."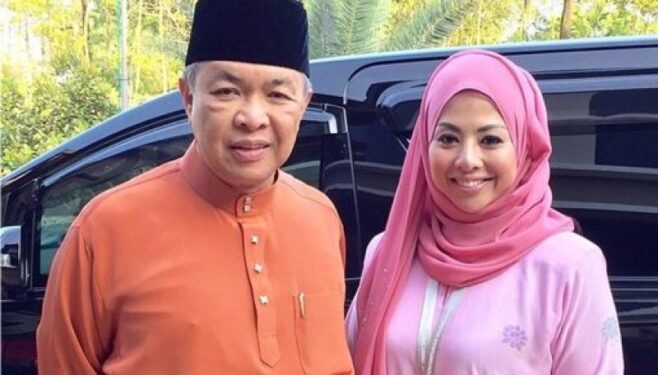 Earlier in March, the so-called enterprising Nurulhidayah was berated by netizens over her misdemeanour of looking down on the B40 group after the video of a Universiti Teknologi MARA (UiTM) lecturer scolding one of her students for attending their online class using a mobile phone instead of a laptop went viral.
The lecturer's anger stemmed from the fact that the said student has not been properly equipped to attend class despite being in his fifth semester, citing it would disrupt his studies.
"The price of a computer is only RM800, what's your problem? That's why I can't sit with B40 people, these people only think more about other things than education," she remarked in the footage.
In retaliation to Nurulhidayah siding the lecturer, netizens claimed that she is detached from the hardship of the B40 group because of her social status with the more sarcastic remarks urging her to "donate laptops to those who can't afford la since your daddy super rich".
This was not the first time Nurul Hidayah got caught in a controversy for her apparent insensitivity towards the plight of the poor and downtrodden.
In November last year, she caused an uproar when she claimed that Malaysia did not have any period poverty issues when reports came in that young girls are resorting to pregnancy as they could not afford to buy sanitary napkins.
"I am aware alert about it (sic). But not in Malaysia. Where are the high menstrual pad prices? I do research on pads and I launched a menstrual pad brand so I [would] know," she said in response to a comment on Instagram back then.
Only time will tell if the 44 year-old daughter of the BN chairman would turn over a new leaf and mature into a politician the class of the 'princess of the Reformasi movement" who has garnered respect from every strata of the Malaysia's multi-ethnical society.
For the uninitiated, her father won the Bagan Datuk parliamentary seat in GE14 with a majority of 5,073 votes after getting 18,909 votes defeating Pakhrurrazi Arshad (PKR) who received 13,836 votes and PAS candidate Ata Abdul Muneim Hasan Adli (4,061 votes).
On Sept 23, Zahid was released and acquitted by the High Court here on 40 charges of corruption in relation to the Foreign Visa System (VLN) contract.
However, he is still facing 47 charges; 12 of them involving breach of trust, eight cases of alleged corruption and 27 cases of money laundering involving funds belonging to the Yayasan Akalbudi. – Oct 21, 2022