VETERAN journalist and blogger Datuk A. Kadir Jasin has defended the use of "Merpati" (pigeon/dove) as the given codename for incarcerated ex-premier Datuk Seri Najib Razak in the viral social media post of his transfer from the Kajang Prison to the Kuala Lumpur General Hospital (HKL) and subsequently to the Cheras Rehabilitation Hospital (CRH).
Although "jailbird" would be seemingly suitable – coupled with the fact that many netizens reckon that "Gagak" (crow) and "Hering" (vulture) would better fit the bill in view of Bossku's (Najib's moniker) stature and crime – the former editor-in-chief of the New Straits Times felt that "Merpati" is equally appropriate.
"In my view, the codename ("Merpati" or "Pigeon") can be defended because like pigeons who like to poop on human heads, Najib has pooped on our heads as Malaysian citizens," Kadir penned on his Facebook page.
"The problem here is the indictment and evidence that this "Pigeon" is getting special treatment that is different from tens of thousands of other prison inmates."
According to Kadir, the Malaysian public wants to see to it that the "Pigeon" is being treated like any other ordinary prisoner.
"(But) today, many people no longer believe the statements of ministers and the Prisons Department unless they see genuine pictures of the "Pigeon" in prison uniform," insisted the former BERSATU supreme council member.
"But don't try to cheat with 'Photoshopped' photos because experts can distinguish original photos from those that have been Photoshopped!"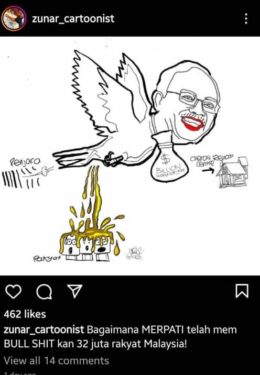 Kadir further argued that the crime of every prisoner and its impact on society varies from one prisoner to another.
"For example, a guilty prisoner committing acts of bestiality with goats has almost no impact on the society. But not in the case of a PM who embezzled hundreds of millions ringgit of civil servants' pension funds leaves a very bad impression," he insisted.
"So enough is enough that the Government has taken a soft approach by having accorded a different treatment to "Pigeon" as a precedent for future heavenly class jailbirds. Who knows if they, too, will follow the footstep of "Pigeon" to jail."
Kadir added that should PM Datuk Seri Ismail Sabri Yaakob, the Government and UMNO feel inclined to accord special treatment to "Pigeon", then it makes valid sense to change the Keluarga Malaysia slogan to "Keluarga Merpati" (Pigeon Family) and UMNO to the "United Merpati (Pigeon) National Organisation". – Sept 22, 2022