ELK-DESA Resources Bhd, a non-bank lender focused in the used-car segment, is expected to ride on the buoyant overall demand for used-car hire purchase financing given the anticipated healthy state of economic activities in the near future.
Moreover, better business and consumer sentiments should uphold solid demand for the company's quality and value-for-money furniture products, according to TA Securities Research.
"Incorporating the better-than-expected 9M FY3/2023 results, we raised ELK-Desa's FY3/2023 net profit forecast to RM51.1 mil from RM43.1mil on further downward revision in the credit loss charge to 0% from 2.0%," projected analyst Li Hsia Wong in a results review. "FY2024/0225 net profit forecasts are maintained at RM45 mil/RM45.8 mil."
Yesterday (Feb 16), ELK-Desa revealed that its net profit for 3Q FY3/2023 ended Dec 31, 2022 rose 5.7% to RM11.12 mil (3Q FY3/2022: RM10.52 mil) while its revenue inched up 4.6% to RM39.95 mil (3Q FY3/2022: RM38.20 mil). The rise in both revenue and earnings was prompted by higher contribution from the group's hire purchase segment.
Notably, the group's net profit for 9M FY3/2023 spiked 98.8% to RM40.24 mil (9M FY3/2022: RM20.24 mil) while its revenue on a cumulative basis was 24% higher at RM114.95 mil (9M FY3/2022: RM92.93 mil).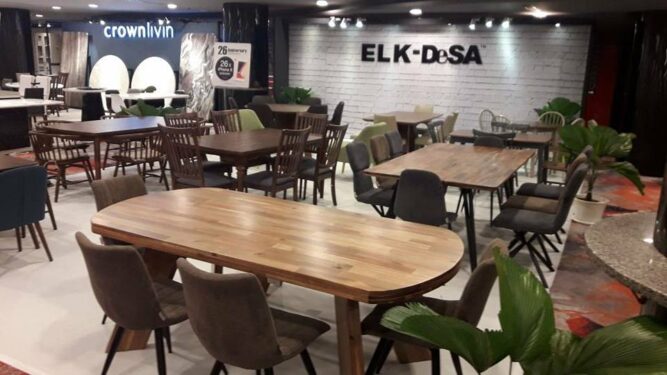 The improvement in revenue and net profit for the nine-month period is due to higher contribution from both the group's hire purchase and furniture segments.
ELK-Desa's executive director and chief financial officer Teoh Seng Hee attributed the exceptional profit contribution from its hire purchase segment to the reversal of impairment allowance on hire purchase receivables in the first half of the group's financial year but "do not foresee such reversal trend to continue in future".
"We are still mindful of the challenges that remain within the operating landscape. These include the rising cost of living that may ultimately impact borrowers' disposable incomes and their repayment ability," he justified.
"Moving forward, ELK-Desa will continue to bring our hire purchase receivables portfolio towards pre-pandemic levels."
At the same time, Teoh said the group will remain mindful towards protecting its asset quality by continuing to be prudent in lending and cost management while being steadfast on its credit recovery efforts.
Elsewhere, TA Securities Research does not expect ELK-Desa's proposed bonus issue to have any material effect on the group's earnings.
"However, the group's EPS (earnings per share) is estimated to dilute by around 33% due to the increase in the number of shares in issues arising from this proposal," suggested the research house.
ELK-Desa has earlier announced that the ex and entitlement dates for its bonus issue would be on March 17 and 20 respectively. To recap, the company has proposed to undertake a bonus issue of 151.6 million new shares on the basis of one new share for every two existing ELK-Desa shares held.
At today's mid-day trading break, ELK-Desa was up 3 sen or 1.76% to RM1.73 with 242,400 shares traded, thus valuing the company at RM525 mil. – Feb 17, 2023