PAS mouthpiece Harakah Daily is abuzz about the misplaced priority of wanting to bring before the Cabinet ways and means to stabilise the price of pork in the midst of difficulty of getting eggs and a spike in chicken prices.
Adding fuel to fire – as pork is deemed a sensitive commodity in Muslim-majority Malaysia – is renowned convert preacher Prof Dr Mohd Ridhuan Tee Abdullah who questioned the "power of the pig" till its price spirals and has to be brought for Cabinet deliberation.
"How many people actually consume pork compared to those who eat chicken, beef and so on," the Bagan Datuk (Perak)-born scholar who was recently barred from being a panel member in the weekly Forum Perdana Ehwal Islam programme produced by Radio Televisyen Malaysia (RTM) penned in a recent column.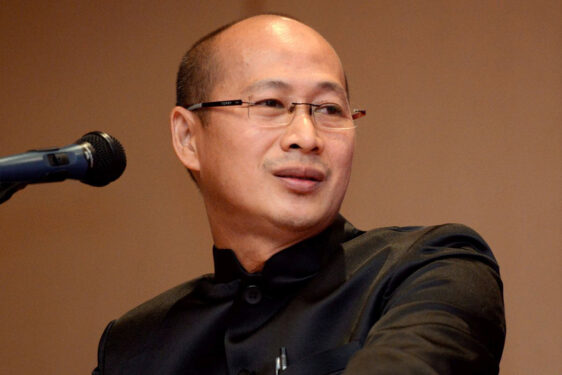 "Why is the pig's voice so feared in a Muslim country when everyone is faced with the lack of eggs and a surge in the prices of eggs and chicken?" It's very unfortunate when you hear that the answer to stabilising the price of eggs and chicken is by not consuming both products. This is the fate of the Malays in their motherland."
For context, the Malay Mail reported On Jan 2 that Sarawak's Food Industry, Commodity and Regional Development Ministry has been closely monitoring pork prices within the state with continuous engagement with the federal level Domestic Trade and Living Costs Ministry, pig farmers' associations and other industry stakeholders to address the issue of pork supply and to facilitate the formulation of unified prices.
This, according to its minister Datuk Sri Dr Stephen Rundie Utom, is to stabilise prices and prevent further price hikes.
"My ministry is also proposing the implementation of a price ceiling of pork to the (federal) Domestic Trade and Living Costs Ministry," Dr Rundie pointed out in a statement.
"For a medium- to long-term measure, the Sarawak government is planning to establish more pig farming areas to expand the production of the commodity to meet both domestic and foreign demand."
He further envisages: "The government will also facilitate the development of modern pig farm with zero discharge, a closed-house system, biogas and biosecurity infrastructure to ensure Sarawak has surplus pork and continue to export."
To this, Ridhuan who is deemed to be very critical in his writings about the non-Malay and non-Muslim communities in Malaysia added:
"The basic food has no proper ranking but instead the haram (prohibitive) food is elevated just because of being an ultra kiasu (literally, scare to lose). As we all know, these ultra kiasu people are the ones that elevate today's leaders to power. Just be careful with them for they will go out of their way to protect their interests."
Meanwhile, political analyst Ahmad Fahmi Mokhtar took a swipe at Prime Minister Datuk Seri Anwar Ibrahim for being deceptive in his portrayal as a true Malay-Muslim leader by "upholding a negative symbol for the Malay-Muslim community, namely the pig".
"But there is an indifferent attitude in the issue of chicken and egg which is regarded as a symbol of food for the majority of Malaysians until the word comes out that if the chicken is expensive, don't consume chicken," berated Fahmi of think tank Darulnaim Research Centre.
"However, the pork which is a symbol of Malaysian minority food is taken seriously. The people look at the pig seriously but the chicken issue is grossly undermined."
Such development, according to Fahmi, is not surprising "because the minorities gave 95% support to PH (Pakatan Harapan) in the last GE15 (15th General Election)," he justified.
"Meanwhile, the Malay Muslims only gave 11% to PH. It may seem that they are the majority, but Malay Muslims are only a minority on PH's side. The majority-minority assessment between us and PH is different." – Jan 9, 2023